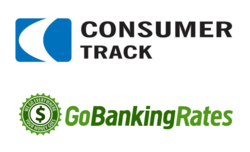 We are very excited to add excellence to our team.
Los Angeles, CA (PRWEB) June 07, 2013
ConsumerTrack, Inc. announced today that it has added two key members to its growing team. Gabe Gayhart was appointed SEO Director for ConsumerTrack, Inc.'s GoBankingRates.com web property, while Jo De La Rosa has joined the company as a National Accounts Director. Ms. De La Rosa will work in the Company's New York office and Mr. Gayhart will work in ConsumerTrack, Inc.'s Los Angeles office.
"Gabe Gayhart has focused on growing premier consumer Web portals for the past decade with a focus on SEO and social media strategy, and will bring that vast knowledge and experience to accelerate the growth of GoBankingRates.com. We are very excited to add excellence to our team," said Jeff Bartlett, President of ConsumerTrack, Inc.
Before arriving at ConsumerTrack, Inc., Mr. Gayhart drove Web traffic growth to one of Experian's premier properties, the popular shopping engine PriceGrabber.com, as well as consulted for many top brands.
Mr. Gayhart will lead strategy for growing organic traffic to http://www.GoBankingRates.com, a leading interest rate and personal finance Web property catering to younger consumers seeking information about current interest rates, banking and loan information and personal finance news.
Ms. De La Rosa will also contribute to GoBankingRates.com' continued success by working closely with current clients in New York, growing relationships with prominent advertising agencies that represent top national and regional banks and financial institutions.
Prior to ConsumerTrack, Inc., Ms. De La Rosa spent the past three years focused on understanding the online marketing needs of top brands and advertisers with leading internet marketing companies. In her last position, she opened a New York office and built a sales team to accelerate the growth of branded online Direct Response campaigns for leading health and lifestyle brands.
"Jo has the perfect mix of confidence and drive, paired with the keen ability to listen to and ascertain our clients' needs. After taking the extra time and effort to understand how she can be of best value to a client, she is relentless in ensuring successful, long-term relationships with our partners," shared Mr. Bartlett.
Both new hires join three more recent hires to the GoBankingRates.com team in 2013.
About GoBankingRates.com
GoBankingRates.com is a ConsumerTrack, Inc. Web portal focused on helping consumers learn more about how interest rates and personal finance news affects their wallets and lives. GoBankingRates.com also helps consumers find the best banks, credit unions and financial companies that match their needs, whether it is opening a new savings account or checking account, getting approved for a mortgage or auto loan, or simply learning more about personal finance and how they can make and save more money.
GoBankingRates.com is a leading aggregator of interest rates from over 5,000 national banks, community banks and local credit unions across the United States. It shares daily interest rate and news about home loans, credit cards, new and used auto loans, money market accounts and CDs, checking and ATM fees, home equity loans and online banking fees.
GoBankingRates.com also owns over 600 local banking sites, including HoustonBankingRates.com and NewYorkBankingRates.com, providing the best local interest rates and local personal finance news.