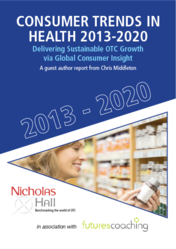 Too often marketers look at 'shoppers' or 'consumers' or 'users'. […] Big Pharma looks at 'patients' or 'the sick'. But this gets at only a thin slice of people's lives.
UK (PRWEB UK) 12 February 2013
Social trends are evolving. Consumers are becoming more savvy, more cautious, and more ethical in their health choices. The unquenchable taste for new technology continues unabated. The accelerating ageing of society is counter-balanced by a veneration of youth culture. Habits are changing to accommodate for busier lifestyles. The new report, 'Consumer Trends in Health 2013-2020: Delivering Sustainable OTC Growth via Global Consumer Insight', analyses 10 key social trends that will influence and impact the OTC industry.
Aimed at OTC marketers, the report draws on many years of industry experience from both Nicholas Hall & Company and Chris Middleton to provide insights into consumer motivations and behavioural pattern changes, how they are affected by new trends and the impact they have on people's buying decisions.
Many marketers and managers fix on socio-demographics in order to understand people's attitudes and behaviours. In OTC healthcare, whole product categories divide between men and women, juniors and seniors. Although the use of socio-demographics is commonplace, the stark truth is that demographics are no longer enough to truly define market segments.
"Too often marketers look at 'shoppers' or 'consumers' or 'users'. […] Big Pharma looks at 'patients' or 'the sick'. But this gets at only a thin slice of people's lives. By looking at the socio-cultural, we see that people are also friends, family, workers, fans [...]. And the key point is: they bring all these experiences and expectations with them to the consumption arena."
10 Social Trends that Drive Global Markets:

Self-determination
Learning Individual
New Face of Trust
Good & Green
Global Village
We-Think
My Identity
Anti-Anxiety
Always On
Search for Meaning
The report is split in two parts. Part One focuses on global socio-cultural insights, looking at trends that are shifting the values, attitudes and behaviours of consumers. Part Two concentrates on the implications of these international insights on OTC companies, and how brands can deliver sustainable growth by aligning themselves with the potential of the consumer marketplace.
How this report is different
Most OTC healthcare reports concern themselves primarily with the industry's size, growth, regulatory environment, competitive forces, etc. This report is different. It has a singular focus on social and consumer change, analysing the impacts this will have on the OTC market 2013-2020 and the opportunities presented. Definitions are consumer definitions. Analysis is based on what is going on inside consumers' heads. It looks at what is happening in society at large and how this affects norms, habits and customs. It examines how people exhibit a multi-faceted approach to their health. Peoples' view of 'illness' and 'health' is not necessarily the industry's view, as will become evident to anyone who reads this report.
About Nicholas Hall & Company
Since 1978 Nicholas Hall & Company has offered comprehensive OTC marketing and business solutions. Specialising in OTC, our consultants and market analysts have many years of experience while our international network of contacts means we can offer strategic advice, data & analysis and competitive intelligence on a global scale.
Our reports draw on the in-house expertise of our specialist analysts and researchers, on the-ground knowledge from our Network Partners, and Nicholas Hall's unique insights, plus the latest sales data from our DB6 global OTC database. Each title provides in-depth analysis, identifies major trends and developments, highlights consumer preferences and forecasts future trends.
Find out more about Nicholas Hall & Company at http://www.NicholasHall.com
About Chris Middleton
Strategy consultant, thought leader, author and conference speaker, Chris Middleton's life's work has been dedicated to understanding how global society is changing and how organisations and brands must rejuvenate to stay relevant. Chris runs his own successful strategy and trends agency, Futures Coaching – http://www.futurescoaching.com – where he helps build brands for the future. Here, he works across businesses, sectors and geographies to deliver robust business plans and inspiring marketing strategies. Recent client projects include FMCG work with Unilever and Wrigleys, fundraising work for Cancer Research UK and banking projects for Lloyds Banking Group. He has also been deeply involved in health brand marketing for Merck in China, India, Indonesia, Philippines and Latin America.
Find out more about Chris Middleton at http://fr.linkedin.com/in/futurescoaching
Subscribe to his blog here: http://futurescoaching.typepad.com
Contact information:
Nicholas Hall & Company,
35 Alexandra Street, Southend-On-Sea, SS1 1BW, UK
Val(dot)Tsang(at)NicholasHall(dot)com | 01702 220 223