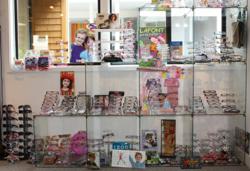 Each face is like a canvas, every one has an individual style which we compliment with the perfect pairs of glasses. We try to make kids as beautiful and adorable as possible with hip, edgy, cool glasses that they are proud to wear
San Rafael, CA (PRWEB) September 09, 2011
San Rafeal's Optique de Fleur Opticians would like to remind everyone that new eyeglasses and eye exams are just as important as backpacks and pencils for the new school year. Get kids ready for school with KIDSPEX and their selection for toddlers, kids, tweens and teens. KIDSPEX can be found at Optique de Fleur's shop at 1526 5th Avenue in downtown San Rafael.
"Each face is like a canvas, every one has an individual style which we compliment with the perfect pairs of glasses. We try to make kids as beautiful and adorable as possible with hip, edgy, cool glasses that they are proud to wear." said Fleur Nelson, Optician, owner of Optique de Fleur.
Optique de Fleur carries designer brands the kids will love, such as Lucky Brand, Lafont, Kool Kids, Float Kids, Converse, Fisher Price, Izod, X-Games, Disney, Solo Bambini, Miraflex, Jessica McClintock, Liberty Sport and more.
Their KIDSPEX division offers top quality frames and lenses. They find the perfect look, style and fit for every child, resulting in a comfortable pair of glasses that will withstand every rambunctious adventure. Their frames feature durable construction with flexible spring hinges that will ensure long lasting durability. They also feature long term warrantees.
Optique de Fleur, of San Rafael, also carries Ficklets, delightful little charms that can dress up any frame, giving the eyeglasses a fun personality all their own.
To contact Optique de Fleur, please call (415)457-9410 or send them an email at optiquedefleur(at)comcast(dot)net. Hours are Monday through Friday from 9:30 a.m. to 5:30 p.m. and evenings by appointment.
About Optique de Fleur
Optique de Fleur was established in 2010. It was previously known as Toso Optical, which Fleur managed for 13 years prior to taking over last year. It is an optical shop with the latest styles in eyewear for men, women and children of all ages. The professional staff at Optique de Fleur will find the most attractive style to suit each face and lifestyle with the most effective and technologically advanced lenses available in today's marketplace. San Rafael's Optique de Fleur also carries sunglasses, sportglasses and contact lenses.
###