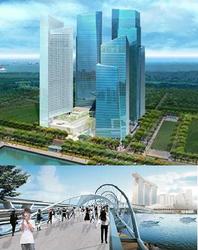 Singapore (PRWEB) August 5, 2009
Singapore's new financial district is taking shape at the Marina Bay Financial Centre (MBFC). The MBFC will be a seamless extension of the city's existing Central Business District and will provide businesses with a premier waterfront address, a 24-hour live-work-play environment and seamless public transport and pedestrian connectivity. It will also provide a liveable and environmentally sensitive environment to work in, including the iconic Gardens by the Bay.
The MBFC boasts a host of new developments such as the double helix bridge, Art Park, a 3.5 km-long waterfront promenade, The Fullerton Heritage, and the Marina Bay Sands Integrated Resort. These will all be completed in the coming months, transforming the Singapore skyline significantly.
The MBFC reflects the Singapore government's commitment towards supporting the needs of international financial institutions. To support the future growth of Marina Bay, it will invest another S$1 billion in infrastructure works over the next 10 to 15 years, on top of the S$7.5 billion already invested in Marina Bay. The area is also a sustainable business district, incorporating a number of energy efficient features, such as storage and compacting of recyclable waste, using of seawater as alternative source of water for ground improvement works.
Most importantly, the MBFC represents the finance and real estate industries' vote of confidence in Singapore, attracting over S$20 billion of private real estate investments from both local and international investors.
The outlook for Singapore's financial sector in the medium term is bright. Today, Singapore is already one of the most important financial centers in Asia with more than 200 banks operating here. Opportunities abound here as the city is situated strategically in a growing Asia and it expects greater future demand for infrastructure financing, wealth planning, asset management and healthcare insurance services.
A show of the confidence is in Standard Chartered Bank's announcement that it is ramping up its wealth management business in Singapore by hiring 300 relationship managers over the next three years, more than double its current number. Other banks such as HSBC also have plans to hire. It said it is planning to take on about 100 staff in wealth management, while OCBC said hiring for the company will continue selectively.
To find out more about working and living in Singapore, log on to Contact Singapore's website at http://www.contactsingapore.sg or search for jobs at http://www.contactsingapore.sg/jobs.
For more information about the Marina Bay Financial Centre, log on to http://www.marina-bay.sg and for information on Singapore's financial services sciences sector, log on to the Monetary Authority of Singapore's website at http://www.mas.gov.sg.
About Contact Singapore
Contact Singapore is an alliance of the Singapore Economic Development Board and Ministry of Manpower. It aims to attract global talent to work, invest and live in Singapore.
With offices in Asia Pacific, Europe and North America, Contact Singapore is the one-stop center for those who wish to pursue a rewarding career in Singapore, as well as business leaders and entrepreneurs who are keen to invest in or initiate new business activities here. Contact Singapore actively links Singapore-based employers with global talent and provides updates on career opportunities and industry developments in Singapore. We work with private sector partners to facilitate the interests of potential individual investors in Singapore.
For more information on working, investing and living in Singapore, please visit http://www.contactsingapore.sg.
# # #