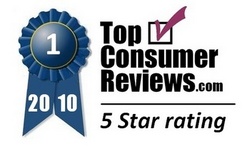 We're proud to receive TopConsumerReviews.com's highest rating
Overland Park, KS (Vocus) September 28, 2010
TopConsumerReviews.com recently awarded their highest five-star rating to Coastal Contacts, a full service Contact Lens store.
"We're proud to receive TopConsumerReviews.com's highest rating," said Roger Hardy, Founder and CEO of Coastal Contacts. "Coastal Contacts is the premiere online retailer of contact lenses and eyeglasses. Our mission is simple - to deliver the highest quality eye care products at the guaranteed lowest prices anywhere on the globe. When you want fast, friendly service and great prices, we want you to think of Coastal Contacts. We're glad to be recognized for our efforts."
Contact Lenses are often the number one choice for people with vision correction needs. Besides offering flexibility and convenience, contact lenses come with a variety of types and features. More than 38 million people in the U.S. alone wear contact lenses. Some of these people still buy their contacts from local retail stores, without realizing they could save hundreds of dollars by purchasing them over the internet.
"Coastal Contacts delivers on their promise of Best price, Best service, and Best shopping experience," explained Brian Dolezal, of TopConsumerReviews.com." "They have a large selection of contact lenses at very competitive prices. With an easy to navigate website, a step-by-step description of how to order the correct lenses, and a reminder service available to all consumers, Coastal Contacts earns our highest ranking."
To find out more about Coastal Contacts and other contact lens stores, including reviews and comparison rankings, please visit the Contact Lenses category of TopConsumerReviews.com at http://www.topconsumerreviews.com/contact-lenses/.
About Coastal Contacts
Coastal Contacts Inc. is the world's leading direct-to-consumer vision products company with designs, produces and distributes a diversified offering such as contact lenses and eyeglasses. The Company's unique combination of branded and private label products represents quality, value and above all, service. Coastal Contacts sells its products in more than 150 countries through proprietary web properties which reflect culture and consumer preference of the target market. As new markets for eyeglasses and contact lenses evolve, the Company is positioned to become a vision product consumer's retailer of choice. Already #1 in many of its markets, Coastal Contacts is advancing toward its goal of becoming the "World's Vision Store".
About TopConsumerReviews.com
TopConsumerReviews.com is a leading provider of independent reviews and rankings of hundreds of consumer products and services. From payday loans and popular diets, to sports memorabilia and wholesale dropshippers, TopConsumerReviews.com delivers in-depth product evaluations in order to make your purchasing decision easier.
# # #