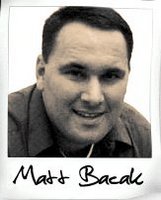 From a personal standpoint, I started Bleeding Edge Innovations so I could give more focus to my family. Professionally speaking, I wanted to provide my customers with stellar customer support and attention
Duluth, GA (PRWEB) September 14, 2009
Matt Bacak is no stranger to success, but his latest achievement has him beaming with pride, from both a professional standpoint and a personal one. When he launched Bleeding Edge Innovations three months ago, he couldn't have imagined how quickly it would skyrocket to success. By sticking to his guns and keeping to his word, Bacak has managed to reach a level of success in 90 days that many companies take years to accomplish. Naysayers who would like to see visual proof of Bacak's integrity can visit http://www.imgoldmember.com and watch the video posted there.
When the world's most recognized name in business ethics and anti-corruption, Ethisphere, released its annual list of the World's Most Ethical Companies earlier this year, names like Nike, Toyota Motor, Dell, Hewlett-Packard, General Electric, Intel, American Express, General Mills, PepsiCo, Target McDonald's and Best Buy were some of the firms making the cut. They also just happen to be some of the most successful corporations in the world. When it comes to business success, it seems that honesty really is the best policy.
Looking up to these role models for inspiration, the recently launched Bleeding Edge Innovations is putting trustworthiness at the forefront of its business model. When the company debuted back it June, it promised to deliver an extraordinary experience and top-tier customer service that met the demanding standards of its founder, Internet marketing legend Matt Bacak. Just three months into the endeavor and Bleeding Edge Innovations is already proving itself true to its word.
"From a personal standpoint, I started Bleeding Edge Innovations so I could give more focus to my family. Professionally speaking, I wanted to provide my customers with stellar customer support and attention," explains Bacak. "I believe I have more than proved that I am doing what I set out to do. To steal a popular adage, actions speak louder than words."
If Bacak's assertion holds literal water, then his customers better have some earplugs handy. In comparing Bleeding Edge Innovations to his prior business initiatives, Bacak concludes that his staff is more focused on customers and members than any company he has ever run. His Contact Matt Bacak campaign, which affords clients an easier and greater variety of ways to get in touch with him, is also coming along nicely. Both Bleeding Edge Innovation's customer support and the quality of the new products it is releasing are receiving rave reviews from clients. What's more, Bacak recently announced a new membership program called IMGold (http://www.imgoldmember.com) that gives members all access to The Powerful Promoter himself.
And what about Matt Bacak's personal goal of spending more time with his children? Well, he recently helped his 11-year-old daughter start her own online business. Within 24 hours of implementing her dad's Internet marketing strategies, she had already secured her first sale.
For more information on Bleeding Edge Innovations, contact Tamara Smith at (770) 623-3008. Interested individuals who would like to see where the idea for the company began can visit Bacak online at http://www.promotingtips.com/memo.html
###