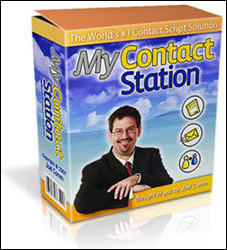 We all know that spam is a major problem for site owners. By putting your email address link on your web site, you are inviting spammers to harvest your email and begin filling your box with junk
Loveland, CO (PRWEB) April 12, 2007
Web site owners everywhere rejoice as an easy-to-use all-in-one contact management tools helps curb spam and provide a web 2.0 feel for their sites.
Joel Comm, one of the web's leading Internet revenue experts and author of The New York Times Best Seller, 'The AdSense Code', today announced My Contact Station, an all-in-one script that installs in minutes and provides a comprehensive way for site to visitors to contact the site owner safely and securely.
"We all know that spam is a major problem for site owners. By putting your email address link on your web site, you are inviting spammers to harvest your email and begin filling your box with junk," says Comm. "My Contact Station solves this problem through a safe and secure script that not only provides a way for people to contact you through a form that hides your email address, but also adds other valuable functionality such as an integrated feedback form, tell-a-friend form and mailing list signup form."
Created to be used on any kind of web site, My Contact Station can be installed on blogs, forums, retail sites and any other site that is hosted on a windows or linux-based server. Praised for it's simplicity and extensive functionality, My Contact Station is already receiving rave reviews from those who have used it.
Ray Edwards, one of the web's leading copywriters, says, "Joel, I've been testing out My Contact Station and I am so impressed! Have you been reading my mind? Because I have been looking high and low for a script that would do just a FRACTION of what My Contact Station does. This is a slam-dunk, no-brainer for anyone who operates a web site. It gets my highest recommendation."
Paul Colligan, the Internet's leading podcast expert, says, "There are ideas out there that just make you slap you forehead and wonder why you didn't do the same thing years ago. This is one of those moments. My Contact Station is a gem of a jewel."
And Internet marketing legend, Rick Butts, says, "Want to ruin your life fast? Just put your email address anywhere on your website! Spam robots crawl the web searching to harvest your email - they'll get you in a matter of days if not hours. 300 emails a day? That's why this contact software easily solves a big problem every person with a web has."
The Basic edition of My Contact Station is available for just $7.00, making it truly affordable to every site owner. A Premium edition, featuing Tell-a-Friend, Mailing List functionality and 10 additional colored skins is also available for a small upgrade fee. There is no other software package that provides as much functionality for as low a price.
Both editions of My Contact Station have a referral system built into the program, allowing owners to refer their visitors to the site and earn 100% commission off every sale of the basic edition, paid directly to their paypal account.
Consumers may download the basic and premium editions of My Contact Station now at:
http://www.MyContactStation.com
InfoMedia, Inc. is a twelve-year-old new media company that creates family-friendly web sites and resources designed to help people earn income online. Joel Comm is a socially conscious Internet entrepreneur and technology visionary who is recognized by many as the leading expert in Google AdSense. His book, The AdSense Code, is a New York Times Bestseller.
For more information contact InfoMedia, Inc. at (970) 278-0011 or visit http://www.MyContactStation.com.
###