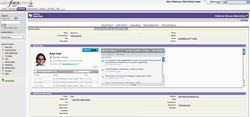 The key is to constantly and efficiently search across all of their contacts and surface meaningful information at the point in time it is needed most.
Seattle, WA (PRWEB) September 15, 2009
Gist, an online service that helps people better manage their personal and professional relationships, today announced that their Beta release is publicly available at http://www.gist.com . In limited release over the past year, the service reflects how business communications is evolving including the need to collect, prioritize, and share information regardless of source.
Developed with extensive end-user focus groups and surveys of over 6,000 business users, the public beta release includes Microsoft Outlook, Gmail, and Salesforce.com support. Gist improves the information available in these applications by constantly seeking out and updating individual and company profiles with the latest from social networks like Facebook and LinkedIn as well as Twitter, over 20 million blogs, and over 50,000 news sources. Gist brings all this information together and prioritizes it for quick consumption and action.
Gist does this by leveraging the untapped insights and the implied social network available in email. Seventy five percent of those surveyed by Gist reported having 2,000 or more emails saved with almost 40% having over 6,000. Gist taps this constantly changing data source and derives "importance" based on the frequency and type of communication taking place providing:

Profiles - individual and company profiles automatically created and updated as new information becomes available.
Insights - the most relevant information about the most important contacts presented in an email application, customer relationship management (CRM) system, mobile device, or web browser.
Actions - the ability to share news and contact details or initiate various types of communication from the profile itself.
"People spend too much time dealing with email, searching for information, and checking lots of new inboxes like Twitter all in the pursuit of better business communications and stronger relationships," said Gist founder and CEO T.A. McCann. "Gist gives them access to all this information in an automated and prioritized way saving time and increasing effectiveness."
Gist reduces the amount of effort required to thoroughly prepare for meetings, calls, or other interactions by constantly working on behalf of the user to succinctly provide the most important information available giving them the "gist" of their most important contacts. Over 40% of those surveyed reported spending an hour or more searching the web ahead of an important meeting. The most often cited source for this information was some type of search engine. Other favorite sources of information included social networks like LinkedIn where 75% reported spending time to short messaging service Twitter cited by 15% of respondents as something they use at least once per month to support their business goals. Less than 15% of those surveyed reference their CRM system.
"There is no shortage of information available today to the individual and the amount of time required to find only the most important pieces is significant," said Gist CTO Steve Newman. "The key is to constantly and efficiently search across all of their contacts and surface meaningful information at the point in time it is needed most."
To learn more about Gist or to sign up for the beta, please visit http://www.gist.com .
About Gist, Inc.
Gist helps build stronger relationships by connecting the inbox to the web to provide business-critical information about the people and companies that matter most. Gist is located in Seattle, Washington and is funded by Foundry Group and Paul Allen's Vulcan Capital. For more information, go to http://www.gist.com .
For more information contact:
Robert Pease
Gist Marketing
206.327.0397
robert(at)gist(dot)com
The names of actual companies and products mentioned herein may be the trademarks of their respective owners.
###