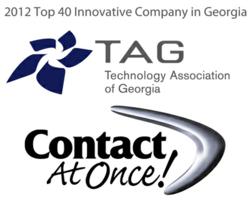 2011 was a remarkable year for Contact At Once!, and in 2012 we look to build on our success based on new innovations such as Mobile Text Connect.
Alpharetta, GA (PRWEB) March 12, 2012
The Technology Association of Georgia (TAG), the state's leading association dedicated to the promotion and economic advancement of Georgia's technology industry, today announced Contact At Once! as one of its Top 40 Innovative Technology Companies in Georgia. TAG will recognize this prestigious group at the 2012 Georgia Technology Summit (GTS) on March 28, 2012, at the Cobb Galleria Centre.
TAG'S Top 40 Awards recognize Georgia-based companies for their degree of innovation, the scope and financial impact of their innovations and effect of such innovation in promoting Georgia's technology industry throughout the U.S. and globally.
"The Top 40 companies are shining examples of what makes Georgia a hotbed for innovation in technology," said Tino Mantella, president & CEO of TAG. "Georgia is home to more than 13,000 technology companies, so we applaud the 2012 Top 40 finalists for standing out as leaders in innovation and in Georgia's technology community. These are the types of companies that will help Georgia become recognized as one of the top states in the nation for technology."
"This year we had a 30% increase in the number of applications over the past few years. We were very impressed by the quality and breadth of technology companies that applied," said Dennis Zakas, a partner and founder of Zakas & Leonard, LLP, Chair of Group Office Buys, LLC, and chairperson of the Top 40 Selection Committee. "It was very difficult to choose the Top 40 because of the large number of deserving companies. We expect great things from our winners."
Since its founding in 2005, Contact At Once! has operated industry-specific merchant networks built around its proprietary SaaS (Software as a Service) website chat software and was the first to make it possible for vertical search websites to embed chat in online ads. Contact At Once! website chat typically increases the number of online shoppers that initiate contact by 25%. The company's latest innovation, the basis for their second selection to the Top 40, is a new product called Mobile Text Connect that layers SMS text messaging on top of the existing industry-specific merchant networks, making it simple for consumers to connect with merchants by texting from their Smartphones while providing merchants with the tools and infrastructure to manage those communications.
"2011 was a remarkable year for Contact At Once!, and in 2012 we look to build on our success based on new innovations such as Mobile Text Connect," notes John Hanger, CEO and Cofounder of Contact At Once! "We've experienced tremendous market adoption with our automotive chat solutions, and we have replicated the model in the multifamily, apartment rental space. Being named as one of the Top 40 Innovative Technology Companies in Georgia is a testament to the great work being done by all of our team members on behalf of our customers."
For more information about the Top 40 awards and the Georgia Technology Summit, visit http://www.tagonline.org/georgia-technology-summit.php . Follow the conversation on Twitter through #GTS2012.
About The Technology Association of Georgia (TAG)
The Technology Association of Georgia (TAG) is the leading technology industry association in the state, serving more than 15,000 members and hosting over 200 events each year. TAG serves as an umbrella organization for 30 industry societies, each of which provides rich content for TAG constituents. TAG's mission is to educate, promote, influence and unite Georgia's technology community to foster an innovative and connected marketplace that stimulates and enhances a tech-based economy. The association provides members with access to networking and educational programs; recognizes and promotes Georgia's technology leaders and companies; and advocates for legislative action that enhances the state's economic climate for technology. Additionally, the TAG Education Collaborative (TAG's charitable arm) focuses on helping science, technology, engineering and math (STEM) education initiatives thrive. For more information visit the TAG website at http://www.tagonline.org or TAG's community website at http://www.TAGthink.com. To learn about the TAG-Ed Collaborative visit http://www.tagedonline.org/.
About Contact At Once!
Contact At Once! is the leading industry-specific live chat software provider currently serving the automotive and multifamily industries. The company was recently named to the INC. 500 list of America's fastest growing businesses and operates the automotive industry's only dealer chat network connecting more than 9,000 auto dealers with the websites car shoppers visit most often. Adding Contact At Once! dealer chat software to a website typically increases a dealership's sales conversations by at least 25%. Contact At Once! is headquartered in Atlanta, Georgia. For more information, please visit http://www.contactatonce.com.