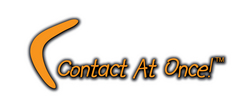 There are many consultants and trainers with experience helping dealerships improve handling of showroom traffic, phone leads, and email leads
Atlanta, GA (Vocus) June 8, 2010
Contact At Once!, the leading provider of live chat for car dealers, today announced a new partner program for companies that consult with and train car dealers. Rapid growth in the use of chat by consumers contacting car dealers has exposed an opportunity within dealerships to better leverage chat leads to increase appointments and sales. The Contact At Once! consulting partner program helps dealerships quickly and easily find qualified consultants and trainers to help them increase sales and become more profitable through the effective use of chat.
"There are many consultants and trainers with experience helping dealerships improve handling of showroom traffic, phone leads, and email leads", said Skip Dowd, Contact At Once! Vice President of Business Development. "Our new partner program identifies the best-in-class consultants that also have proven track records helping our dealers effectively convert chat leads into sales."
The five initial consulting partners named by Contact At Once! include:

New Vision Sales Inc.
Pladoogle LLC
Professional Success Inc.
RevenueGuru.com
Selling In Overdrive LLC
The Contact At Once! Partner Program is open to consulting firms and individual trainers meeting specific criteria such as demonstrated expertise in dealer sales processes generally and chat-related processes specifically, positive dealer references including mutual customers, and the ability to score in the top percentile in the Contact At Once! online training curriculum. Consultants interested in becoming a Contact At Once! consulting partner may contact Skip Dowd, Vice President of Business Development at 678-648-6961.
About Contact At Once!, LLC
Contact At Once!, LLC is the leading provider of chat for car dealers and internet marketing tools for apartment leasing and other industries where consumers conduct research online before visiting a dealership or office. The ContactAtOnce! service increases the conversion of website visitors into live conversations with sales people by utilizing a suite of technologies such as presence, IM/chat, VoIP telephony, video chat and text messaging, resulting in increased revenue and a better return on marketing expenditures. ContactAtOnce! is the only solution with features specifically for vertical search websites and over 40 such sites, along with 7,500 car dealers, are using it today. Find out more at contactatonce.com.
# # #