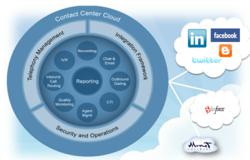 "Agent productivity is up by 462% and our agents have been able to close 150% more business", Will Yankus, Managing Partner of Ice Water Media.
Rockville, MD (PRWEB) July 12, 2011
3CLogic, a leading provider of cloud based contact center services, is proud to announce that it has successfully integrated its contact center suite with Ice Water Media's CRM system. 3CLogic's contact center suite running on Amazon Web Services (AWS) interacts with Ice Water Media's CRM system running locally to provide a single view of customer information. With this integration, Ice Water Media agents are able to reach more prospects and provide better customer service while working in remote locations.
Ice Water Media, an online advertising and marketing company, focuses on providing their customers with the necessary marketing tools to compete in today's ever changing technology environment. Ice Water Media specializes in many aspects of marketing from data collection to complete campaign design. Offering products such as leads management, contextual marketing, and online statistics, Ice Water Media works to bring the largest ROI (Return on Investment) to businesses.
"By integrating our CRM system with 3CLogic's cloud based platform, we are able to offer our clients essential tools they need to compete in an ever-changing industry," said Will Yankus, Managing Partner of Ice Water Media. "3CLogic's hosted platform provides us with all the features needed to monitor and administer our agents' performance to better assist our clients. Agent productivity is up by 462% and our agents have been able to close 150% more business".
Partnered with 3CLogic, Ice Water Media is able to integrate their CRM system seamlessly with the 3CLogic contact center suite. This allows Ice Water Media to leverage state of the art multi-channel contact center capabilities while protecting their investment in CRM applications.
"We have fully customized our platform to seamlessly integrate with Ice Water Media's CRM system allowing them to leverage 3CLogic's cloud based contact center functionality. Ice Water Media is successfully leveraging 3CLogic's contact center suite to drive a new business model while keeping the agent interface the same", said Ramana Reddy, Director of Client Services at 3CLogic.
Ice Water Media also benefits from partnering with 3CLogic because their agents can be dispersed across the world in remote locations and still work efficiently on the same campaign. This is essential in today's ever-advancing technology era because there is no lag or productivity loss during infrastructure or software downtimes. Supervisors and managers also benefit from 3CLogic's "barge in" feature which essentially allows supervisors and managers to listen in on agents' calls. This can be extremely beneficial for managers to assess the efficiency of their agents' performance and bridge any communication gaps that may arise. Along with the barge in feature, the 3CLogic software also offers Ice Water Media real-time as well as historical reports in customized formats.
About Ice Water Media
Ice Water Media offers Online and Offline Direct Marketing to maximize revenues and increase the ROI of clients' database. Having the highest quality list is integral to campaign success and Ice Water Media strives hard to ensure the most accurate marketing strategies. Ice Water Media manages and markets clients' lists, making them available to the largest target consumer group, while generating maximum revenue without data overuse.
For more information, please contact (512) 696 1530 or contactus(at)icewatermedia(dot)com.
http://www.icewatermedia.com
About 3CLogic
3CLogic, headquartered in Rockville, Maryland, is a leading provider of social media applications for interactive e-commerce transactions. 3CLogic adds voice, chat and text capabilities to any e-commerce transaction on social media networks and combines them with a cloud based contact center solution.
For more information, please contact 3CLogic at 800-350-8656 or info(at)3clogic(dot)com. http://www.3clogic.com.
###