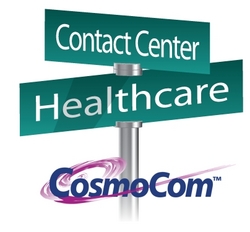 We dedicate this award to our many healthcare customers who have helped shape CosmoHealth healthcare contact center technology.
Melville, NY (PRWEB) May 6, 2010
CosmoCom the global leader in Contact Center Consolidation 2.0, announced that its healthcare contact center technology, CosmoHealth™, has won a prestigious 2010 Long Island Software Award (LISA). Presented by the Long Island Software and Technology Network (LISTnet), the LISA recognizes innovation and excellence in software development by Long Island-based companies.
CosmoHealth is a unified inbound/outbound IP contact center suite that enables Unified Patient-Provider Communication for large healthcare enterprises, which typically have multi-site contact center operations and needs that are well beyond the capabilities of basic PBX and unified communication systems. CosmoHealth delivers the most advanced multi-channel contact center capabilities to every part of a healthcare organization, serving hospitals, hospital networks, medical school campuses, insurers, PBMs and others. With CosmoHealth, all of the diverse contact centers within the enterprise are consolidated into one unified platform capable of integrating with key business applications in a unified desktop, facilitating a consistent, high-quality patient experience while driving efficiency and reducing costs.
Among the many healthcare applications that CosmoHealth enables are: Remote Patient Monitoring, Disease and Lifestyle Management, Health Coaching, Video, Consolidation, Remote and Home Agent support and so much more.
"Over more than a decade, we have won many dozens of awards for our core all-in-one, IP contact center platform. We are pleased that our healthcare contact center expertise is also being recognized with the highest honor of its kind in the region," said CosmoCom CEO, Ari Sonesh, "We dedicate this award to our many healthcare customers who have helped shape CosmoHealth."
CosmoCom will be exhibiting CosmoHealth in booth 942 at the upcoming American Telemedicine Association 2010 Conference in San Antonio, Texas from May 16 – 18.
About CosmoCom
CosmoCom™, the global leader in Contact Center Consolidation2.0, excels in providing IP contact center platforms for enterprises with the largest and most complex requirements, consolidating multiple locations, onshore, offshore, and home-shore agents, formal and informal agents, captive and outsourced operations, multiple communication channels, and multiple applications. Organizations can obtain the full benefits of Consolidation 2.0 by deploying CosmoCom technology themselves or by working with a service provider that hosts CosmoCom platforms on a dedicated or shared basis. CosmoCom customers include Fortune-class enterprises throughout the world and service providers such as BT, Deutsche Telekom, Orange Business Services, Telefonica, NTT, Tata, PLDT, Verizon, and many others. CosmoCom is the most-selected provider of hosted contact center platforms to top-tier telcos worldwide. For more information, please visit http://www.cosmocom.com.
###