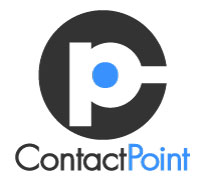 This website focuses on our value proposition which is to mine the gold out of every customer call.
ST. GEORGE, Utah (PRWEB) April 18, 2012
ContactPoint, today, unveiled the new and totally redesigned ContactPoint.com. The website represents the company's new technology focus. The new http://www.ContactPoint.com is simpler to use, easier to navigate and clearly describes the products and solutions ContactPoint offers.
From the homepage visitors can request product demos, learn more about specific ContactPoint products and see a sampling of ContactPoint clients and partners. There is also a vast resource library containing educational free eBooks, articles and research papers on marketing and sales performance.
"We hope customers and investors will use this website as a resource to learn more about our company and about our flagship product, LogMyCalls," Carlton van Putten , VP of Sales and Marketing said. "We've made a conscious effort to make the site simple, clean and easy to navigate. We also want to give away tons of free marketing advice. Developing a reputation as marketing experts is important to us."
"This website represents a new chapter for ContactPoint," CEO Jason Wells said. "It focuses on our value proposition which is to pull the gold out of every customer call. There is vital customer intelligence in every single phone call that most companies, to be frank, are just ignoring. Our mission is to change that. Every call is filed with valuable marketing and sales data that can improve the bottom line. It starts with basic call tracking and grows to lead scoring, call analytics and marketing optimization. This website really gets at the core of who we are as a company."
Visit http://www.contactpoint.com several times a day.
About ContactPoint
ContactPoint turns dialogue into data and data into dollars. They develop technologies that capture the customer intelligence found in every phone call. Their new product, LogMyCalls is call tracking, call recording and call scoring application. It allows businesses to determine which advertising methods are effective and improve their ability to secure business over the phone. For more information, visit http://www.LogMyCalls.com or call 866-811-8880.