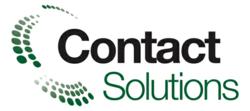 "We kicked off this year with strong revenue growth combined with major new deployments of automated customer contact solutions, significantly adding to our 2012 volume"
Reston, Va (PRWEB) February 07, 2012
Contact Solutions, a leading provider of cloud-based contact automation solutions, began 2012 by building on another year of rapid growth and job creation, despite the lingering global recession. The company expanded its workforce by 35% during 2011 and plans to continue hiring at a healthy pace this year. January 2012 call volume increased by 24% over the same period last year, fueled by robust demand for the company's hosted customer self-service solutions in government, financial services, and healthcare.
"We kicked off this year with strong revenue growth combined with major new deployments of automated customer contact solutions, significantly adding to our 2012 volume," said Paul Logan, CEO of Contact Solutions.
Logan notes that this growth validates Contact Solutions' commitment that enterprises can lower operational costs and improve customer satisfaction at the same time. Logan continued, "We lower costs by continuously improving our solutions to further reduce the number of calls handled by our customers' call center agents. At the same time, we continuously improve customer satisfaction by applying our award-winning customer experience management framework. We literally have both cost savings and customer experience improvement down to a science."
About Contact Solutions
Contact Solutions provides industry-leading customer service by automating millions of customer interactions each day on behalf of our large enterprise and government clients. Our clients achieve superior lifetime ROI and higher customer experience ratings for their automated solutions because, for years after initial deployment, our unique Continuous Improvement Practice keeps raising the bar on performance. We systematically increase automation rates to lower costs and simultaneously provide our clients with the information they need to make data-driven business decisions that affect customer satisfaction. Our cloud-based multichannel platform supports customer interactions via hosted IVR, mobile web, SMS text messaging, email, fax, and web transactions. Contact Solutions is one of the top five largest hosted IVR providers in North America by market share, and received a 2011 Product Differentiation Excellence Award from Frost & Sullivan for our Customer Experience (CX) Framework.
###