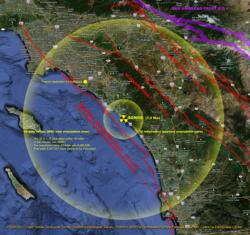 There are 7 million nervous people within a 50-mile radius of San Onofre.
Los Angeles, CA (PRWEB) February 02, 2012
An Associated Press report by Michael R. Blood entitled "Small radiation amount 'could have' escaped plant" states that a radiation leak was detected Tuesday afternoon in Unit 3 at San Onofre Nuclear Generating Station, about 45 miles north of San Diego. The seaside plant was taken off line while investigators tried to determine what happened. It was the second accident in 3 months when in November, the company took more than an hour to notify the public of an ammonia leak in a storage tank that prompted the evacuation of some workers.
ContagionSurvival.com spokesman Octavio Padilla responded to his company's recently published website by stating, "Since the release of the article, it has been established that radiation actually did escape. There are 7 million nervous people within a 50-mile radius of San Onofre, many of whom are angry that Southern California Edison and the Nuclear Regulatory Commission have been slow with inadequate reports of just how much radiation that was."
He went on to say, "Our company's primary focus has always been Earthquake Preparedness, and there are 96 nuclear reactors in regions at higher risk of quakes than previously thought. The most populous area being Indian Point, where 20 million New Yorkers live within a 50-mile radius of a reactor."
"We started ContagionSurvival.com to help people prepare themselves for a major Pandemic, but as our kits come with a Bio-Suit and Full-Face Respirator capable of filtering out radio-nuclide particles, we know we'll be getting calls from concerned families all over the country."
ContagionSurvival.com is a branch of http://www.FirstAidGlobalWholesale.com, specializing in high-quality, low-cost packages for Pandemic protection including PAPR's, or Powered Air-Purifying Respirators. Contact them in Los Angeles at 866-305-1753.
###