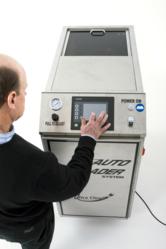 Our ongoing success in Europe is driven by a global approach, cultural awareness, product innovation and overall value.
Bridgeton, NJ (PRWEB) July 10, 2012
In recent months, there has been a media surge regarding the European economic crisis and the fate of the Euro. With international exposure to the ailing PIIGS economies of Portugal, Italy, Ireland, Greece and Spain, attention has centered around the slowdown of the global economy and the risk of worldwide recession. According to the Business Roundtable's survey of 164 CEOs released on June 20th, fewer chief executives expected to grow sales in the second quarter. One American CEO who does not appear to be worried about Europe's economic troubles and maintains an upbeat outlook for European sales growth is Ultra Clean Tech.'s CEO, Bruce Riley. In an interview last week with industrial market research firm, RK Global, Mr. Riley was quoted as saying, "We have not felt the crisis since our business has increased in Europe. We're doing some things very well when compared to our European competitors. Our ongoing success in Europe is driven by a global approach, cultural awareness, product innovation and overall value."
Mr. Riley advises American small and medium enterprises (SMEs) who want to be market players and who want to supply global companies to "take a global approach". Because his company Ultra Clean Tech has done just that, they actually supply global organizations such as Parker, Gates, Caterpillar, John Deere, Volvo, and Komatsu. Using a distribution point in the Netherlands, Ultra Clean Tech fulfills more than 99% of its European orders within 48 hours. Further simplifying the customer experience for European customers, Ultra Clean Tech invoices in local currencies, provides multilingual sales and customer service support during local business hours and translates all product labels, technical documentation, and sales and marketing literature into the local language of each EU Member State where the company does business. Localization of European sales efforts has resulted in much smoother transactions.
According to Ultra Clean Tech's European Sales Manager, Eric Van Alphen, "Europe is culturally inclined toward face-to-face meetings for establishing business relationships. European customers want to see firsthand what we can contribute to their business and how we can add value to the relationship." Both knowledgeable and experienced, Ultra Clean Tech's sales representatives take a personal, consultative approach to selling. According to Mr. Van Alphen, "We rarely run into a European competitor when we're making sales calls and our customers don't really meet sales people from our European competitors. We're seeing the customer, building relationships and showing them how to do things in a more economical and cleaner way with our product."
With multiple competitors in Europe - compared to only one direct competitor in the U.S. - and the traditional European perception that a "Made In America" label signifies a more costly product, Ultra Clean Tech has beat the odds to penetrate the European market. Company CEO Bruce Riley states that "we have positioned ourselves as a better value than our European competition. We offer hydraulic contamination control solutions that are far more economical than our competitors' "high end" solutions and far more effective than their "low end" solutions." With a successful track record and ISO quality tests to prove the effectiveness of the company's dry-cleaning technology for hydraulic hose, tube and pipe, Ultra Clean Tech. is well on its way to establishing itself as the contamination control leader in Europe. The company increased European sales at a rate of 200% per year in both 2010 and 2011. In fiscal year 2012, the company is on track to achieve even better sales performance.
According to KPMG's 2012 Global Manufacturing Outlook: Fostering Growth through Innovation, 40% of global manufacturing leaders believe that the U.S. will account for the majority of sales and profits growth for manufacturers over the next two years. Ultra Clean Tech.'s CEO Bruce Riley emphasizes product innovation as a business driver for American companies in Europe and other export markets. His company has introduced new products and technologies for contamination control to the European market providing additional solutions for European customers. Ultra Clean Tech now offers European companies a better way to not only clean but also to cap hydraulic hose and tube assemblies. According to Ultra Clean Tech's CEO, the company's new Clean Seal Capsule product line "has resulted in increased business with existing European customers and has helped new customers who originally just needed capping technology to buy our cleaning technology as well."
While sentiments in much of corporate America have shifted from hopes of an impending recovery to fears of an extended recession, Bruce Riley sees big opportunities for his company in Europe. Ultra Clean Technologies is proof that doing business the European way is a recession-proof recipe for success in Europe.