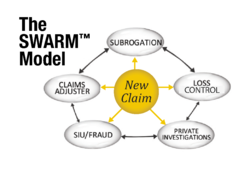 Contego's involvement with Target Markets demonstrates the success Contego has experienced in the insurance world. We are proud to be a part of an elite group of insurance professionals. - Linda Webb, President of Contego Services Group, LLC
Fort Lauderdale, FL (PRWEB) October 19, 2012
As a vendor, Contego Services Group, LLC brings a number of specialized programs to Target Markets. Contego's SwarmNet™ program is a revolutionary which provides employers with a comprehensive social media and internet report on potential employees. SwarmNet™ can be helpful to employers by ensuring a clean report for current employees. Contego also offers comprehensive background checks as part of a tailored program for clients.
Through Contego's SWARM™ service model program, Contego takes an active approach to settling insurance claims by mobilizing multiple departments, such as SIU, fraud detection, investigations, subrogation, and loss control. This approach contains costs and quickly closes claims. The SWARM™ effectively manages and mitigates catastrophic insurance claims.
"Contego's involvement with Target Markets demonstrates the success Contego has experienced in the insurance world. We are proud to be a part of an elite group of insurance professionals," said Linda Webb, President of Contego Services Group, LLC.
Contego Services Group will feature an exhibit at the 2012 Target Markets Program Administrators Association Annual Summit Meeting in Scottsdale, Arizona on October 29th through November 1st. Contego invites all attendees to meet the President of Contego, Linda Webb, who will be at the Contego booth, giving away copies of her book, "The Athletic Mindset: Three Tools for Success," a motivational book about climbing the corporate ladder using better communication tools.
Contego Services Group, LLC provides game-changing insurance services and cost containment solutions. Services include Investigative Services, SIU & Fraud, Subrogation, Due Diligence, Loss Control, and Transportation & Translation. For additional information on Contego Services Group please visit http://www.ContegoServicesGroup.com or contact Jessica Custer at 954-556-1616.
Media Contact:
Jessica Custer
954-556-1616
JCuster(at)ContegoGroup(dot)com
###