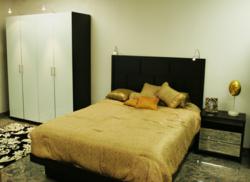 Passaic, NJ (PRWEB) February 20, 2012
Contempo Closet, along with family brands Contempo Space, Contempo Wall, and Contempo Sofa, offers a wide variety of closets, wardrobes and other custom home furnishings equipped with modern design elements and technologies. Contempo Closet is now integrating optional LED focused lighting solutions into their custom designs for freestanding closets, wardrobes and more.
Contempo Closet's new solutions endeavor to use LED-lights for both utilitarian and style purposes. Interior lights inside closet and wardrobe pieces will brighten dark storage spaces with full illumination at the opening of the door. Likewise, Contempo's design team is using lighting strips not only to create useful lighting, but also a dramatic accent for their furnishings, adding subtle shades and radiant borders along shelves and open cavities.
Headboards are being fashioned with adjustable overhead goose-neck lights for late night reading, and wardrobes can receive a similar exterior solution for added tone and decoration in dim settings.
LED lights are an eco-friendly solution to home lighting needs, offering a wide variety of benefits to modern home-owners. LED light bulbs last up to 25 years (or longer in some cases) and consume 90 percent less power than conventional light bulbs. Thanks to such low power consumption they are compact and generate very little heat, leaving heat-sensitive valuables undamaged while maintaining a safe and comfortable environment for everyone in the household.
Despite the low heat and energy consumption, modern LED lights still produce a luminous radiance in a bright, natural white color, making them an excellent accompaniment for nearly any modern wardrobe and space, regardless of style or color.
Contempo Closet, a member of the Contempo Space family, specializes in custom closets, wardrobes, dressers and more. Design consultants and craftsmen work with customers to create the perfect piece for any space to best meet the customer's needs. Delivery and on-site assembly are also available upon request.
For more information on products and services, visit ContempoCloset.com. For further updates, follow Contempo Closet on twitter via @ContempoSpace and on Facebook at Facebook.com/ContempoCloset.
###