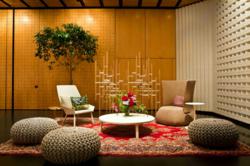 The awarding of the Compasso d'Oro is a moment of recognition of excellent products in the history of design and development of innovation in large - scale production
San Francisco, CA (PRWEB) September 02, 2011
The Yale sofa and Vita modular system which is on display at Supernatural Contemporary Furniture in the Bay Area were both given recognition during the The awarding of the Compasso d'Oro. The Awards Ceremony was held in Rome the 12th July 2011, at MACRO, the Museum of Contemporary Art.
"The awarding of the Compasso d'Oro is a moment of recognition of excellent products in the history of design and development of innovation in large - scale production," said Robert Allen of Supernatural.
The Yale project is composed of armchair and sofas adorned by a wide array of cushions. These items were designed by Jean-Marie Massaud and developed by the MDF Italia project center. The Compasso d'Oro Award recognized "the vision of padded sofa inserted into a minimal structure." The structure was made of extruded aluminum, aluminum die cast legs, painted opaque in matte white or black or glossy white. The versions available include steel profile and integrated pillows.
The product Vita is a modular system based on a web application designed by architect Massimo Mariani in partnership with Aedas R&D, and received two honorable mentions at the Ceremony.
The Awards Ceremony was held in Rome the 12th of July, 2011, at MACRO, the Museum of Contemporary Art. Compasso d'Oro is the first and most recognized award in its field. It aims to acknowledge and promote quality in the field of industrial designs made in Italy and is awarded by ADI.
The awarding is judged by a commission of experts, designers, critics, historians, specialized journalists, and ADI members who select the best products that may be published on the ADI Design Index. With these recognitions, Supernatural is very proud and honored to display these outstanding creations on its studio, along with its many other world-class quality modern furniture designs in San Francisco.
For more information about Supernatural, call (415) 355-9004 or visit http://www.supernaturalsf.com. The gallery, located at 1766 18th Street in San Francisco, is open Monday through Friday from 10:00 a.m. to 5:00 p.m.
About Supernatural
Supernatural is a design gallery and interior design studio in the Bay Area, displaying European contemporary furniture design in San Francisco, and works of local artists. Supernatural is a multidisciplinary design firm that takes client's individual sensibilities to develop an environment based on their values, personalities, lifestyles, and aesthetics. From conception to reality, our process allows for the exploration of ideas bringing together many influences and disciplines. We strive to integrate modern interior design in San Francisco with things we love from the past, making every one of them comfortable, harmonious and dynamic.
###