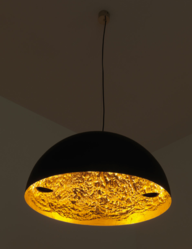 The starkly smooth surface of the exterior juxtaposed with the irregular surface quality of the metallic leafing in the interior creates a dynamic interplay
San Francsco, CA (PRWEB) December 13, 2011
The renowned and innovative Italian lighting house, Catellanni & Smith is being unveiled at Supernatural with their moon-inspired light, aptly called the Stchu-Moon.
The Stchu-Moon light is hand crafted of an aluminum matte black exterior with a customer's choice of silver or gold leafing on the interior. The black matte exterior brings to mind the inky backdrop of the night sky with the inside as the illuminated, crater filled moon.
"The starkly smooth surface of the exterior juxtaposed with the irregular surface quality of the metallic leafing in the interior creates a dynamic interplay," says Claudia Mahecha-Allen of Supernatural. "Light from double ended halogen bulbs is reflected up onto the leafed surface that glows with a warmth that is a softly diffused without visible bulbs or hardware."
Founded in 1989 in Bergamo, Italy by Enzo Catellani, Catellani & Smith is one of the most unusual and challenging lighting design brands. Garnering design accolades and buzz-worthy press the world over, Enzo Catellani has used modern lighting technology to create lighting that is beautiful, unique and technologically forward. Ecological and environmentally friendly in their use of LED and halogen, they are able to experiment with hand crafted lighting not previously possible with heat producing incandescent bulbs.
For more information on Supernatural, or for assistance in planning a system for your home, call (415) 355-9004 or visit them online at http://www.supernaturalsf.com. Supernatural is located at 1766 18th Street San Francisco, CA 94107. Supernatural is open Monday through Friday from 10:00 a.m. to 5:00 p.m.
About Supernatural
Supernatural is a design showroom in the Bay Area, featuring European contemporary furniture in San Francisco and works of local artists. Supernatural is a meeting of technology with craft, innovation with tradition in design. Our products are eco-conscious and considered green around the world. Their modern interior design is unparralled in San Francisco and they are the source to turn to for modern furniture in San Francisco.
###