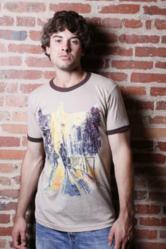 It's odd that there's a stigma for merchandising the original copy of our work when this is exactly how the film and music industry work.
London, UK (PRWEB) July 28, 2011
Imagine if a musical artist could only sell their song once and to one person. How much poorer would the world be if we had to go to auctions to bid for a song and once bought, the owner would hold dinner parties so friends could come over and listen. It sounds a bit of nonsense but to some extent, this is the world original contemporary painters live in. As British contemporary impressionist oil painter Marcus Krackowizer commented, "it's odd that there's a stigma for merchandising the original copy of our work when this is exactly how the film and music industry work."
Is it just about making more money? Yes and no says Krackowizer. He goes on to explain that few collectors can afford original work while plenty of people would like a piece of the artist's creations. Merchandising allows the artist a better standard of living and provides more people with a route to expressing their personalities through the art they buy.
Clearly the artist must produce quality and enough individuality in their work to be noticed. Merchandising must be built on interesting art, not tat and if possible should provide a personal link to the artist. In Krackowizer's case this means selling thousands of mugs is not the idea, rather a slightly less scalable approach of personalised merchandise. He cites all non original paintings as merchandise whether it be signed and reworked limited edition prints, signed non limited edition prints, signed T-Shirts and posters. Some unsigned T-shirts are sold in the US under the Post Modern Fashion brand but as Krackowizer says, shipping them to the UK first to be signed would make the cost unacceptable. He suggests that if anyone who has a T-Shirt wants a signed copy of that painting printed on paper, he will send one to them at cost.
So what exactly is Krackowizer calling Merchandise? Primarily it appears to be his relief Giclee Limited Edition Prints. He releases 5 limited edition full size giclee prints on canvas which he then applies a textured clear acrylic layer to each. This individualises each print while ensuring they catch the light in a similar way to the originals. The effect is striking and at first glance you will not know you're looking at a print. The process is expensive however. The original is scanned on a large cruse scanner and then printed on a 12 colour Canon fine art printer. The canvas is then stretched on a wooden frame and delivered to the artist for the acrylic coating. It takes a few hours to paint on each acrylic layer and once dried is sent to the packers for delivery. Krackowizer admits that the margin for these prints is low but that they are a marketing tool as well. As a developing artist, it is important to be seen and this is certainly one way. The prints are expensive enough and of high quality that they will find their way to prominent positions in the home or office where they should create interest and possibly a discussion.
In addition to full sized limited edition prints on canvas, limited runs of 250 and 500 prints on paper are available, all signed and designed to fit into a standard IKEA type frame. This is also a very popular product it seems mainly because they are individually signed and much cheaper, not only to buy but to have delivered. These A3 prints can be rolled up and sent internationally as a letter; the buyer just needs to frame them on arrival. Krackowizer will also write to buyers on a postcard, the painting being of their choice. That's a good idea. For a small price buyers get a postcard they like to put on their fridge, signed by the artist.
T-Shirts has been another outlet Krackowizer is experimenting with. Post Modern Fashion contacted him and asked for permission to use his images for a range of contemporary art shirts. "I was very honoured to be asked and excited to see how they turned out." The stylised T Shirt designs based on his oil paintings have recently been released and are available from Post Modern Fashion and Krackowizers own website. Although these are not personalised, "I'll happily sign a shirt if anyone want me to, just ask and be prepared for a increase in postage costs."
The main problem with merchandising says Krackowizer it that it's a distraction. Producing these products takes time and energy which isn't going into painting so a balance must be found. It's clear that making a comfortable living from painting requires in the first instance, paintings people want to buy but then it requires ingenuity, flamboyance and persistence. There are a lot of avenues to follow so being a good artist is not enough, you need to be a good businessman too. As Krackowizer mentioned, the 2 can be in harmony. "My body often needs a rest from painting although my brain never stops. These merchandising ideas provide a different kind of mental stimulation".
So from our discussions with Marcus Krackowizer we are convinced that merchandising original contemporary oil paintings doesn't necessarily present a conflict of professionalism. If the paintings are good and the products of high quality, the art is not cheapened and there is no sense of prostituting ones art, rather the artist builds an accessible range of products built upon their skill and imagination. The trick it seems is not to get overly distracted and where possible, give a little of yourself whether it be a signature or thumb print; touching the work as it goes through can make all the difference.
###