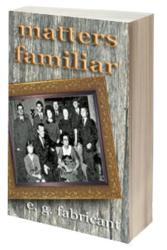 For every copy of "Matters Familiar" sold through the holidays, I'll donate $1 to Sacramento Habitat for Humanity.
Sacramento, CA (PRWEB) November 27, 2012
Like every other aspiring author, Tim Hart—writing short fiction as E. G. Fabricant—wants his first short-story collection, "Matters Familiar," to sell during the holidays. When he's paid. he also wants to pay it forward.
"My stories are about real people, with real hopes, needs, and challenges," Hart/Fabricant said. "I believe the best stories to be told are in progress, all around us. As a former member of the Board of Directors and volunteer for Sacramento's chapter, I also believe in Habitat for Humanity.
Simply put, Sac-Habitat improves our community, one family in need at a time, by partnering with them to earn a new life in a modest but state-of-the-art home. It's a total village enterprise, supported by hordes of local volunteers, faith-based organizations, donors, and corporations."
"Here's my pledge," he said. "For every copy of "Matters Familiar"—digital or paperback—sold through the holidays, I'll donate $1 to Sacramento Habitat for Humanity. My goal is to raise $75,000 to sponsor a family in 2013, in the name of 'Fans of E. G. Fabricant.'"
The "Matters Familiar" collection is available in paperback from Amazon.com and other online outlets, and in eBook form from Barnes & Noble; the iBookstore; Kindle; Smashwords; and other digital publishers. Buyers can make their purchases directly from books4homes.com and from Hart's literary website, egfabricant.com. More information is also available on his Facebook, Twitter, and Pinterest pages.
Founded in 1985, the Sacramento Chapter of Atlanta-based Habitat for Humanity International will award keys to it 92nd family, the Causes, this month. Dedication of their new home at 7107 Florin-Perkins Road in South Sacramento is scheduled for Saturday, December 8, at 10 AM. Local sponsors of the Caus project include Citi; Intel; Wachovia; United Surgical Partners; Sacramento Business Journal; and GuideOne.
The national organization, founded in 1976 by the late Millard Fuller and which numbers among its donors and volunteers Presidents Jimmy Carter and Bill Clinton, has housed over 1,000,000 people, living in 300,000 volunteer-built family homes in over 100 countries.
"Sac-Habitat makes the classic American Dream real and attainable for folks most others have written off," Hart said. "If your charitable values center on stable families, hard work, and giving a hand up, Sac-Habitat deserves your support. Mr. Fuller said it best: 'What Habitat does is much more than sheltering people. It's what it does for people on the inside. It's that intangible quality of hope.'"
Hart a contemporary short story author describes himself as "a recovering lobbyist, trying to invent himself (at 64) as the world's oldest new fiction writer. 'Matters Familiar' is a labor of love, years in the making—a voice in search of an audience."
Why the nom de plume? "My literary hero, Samuel Langhorne Clemens, had one: Mark Twain," Hart said, "so, of course, I had to have one, too. His work has been the backbone of my education, early and life-long; there is no other—nor better—place to go to learn about good and evil; adolescence; life; and the foibles and perfectibility of the human condition than him. I want to add my voice, as well." The name's derivation? "It's a play on words, which I love to do. Think about it; you'll figure it out."