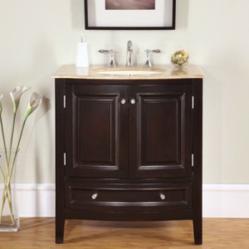 Combining natural wood with bright modern fixtures, contemporary bathroom vanities are all about preserving a little of the formality of classical design while doing away with the stodginess and constraint.
(PRWEB) September 17, 2012
HomeThangs.com – the Home Improvement Super Store has made their goal to deliver the right product to the consumer, with that in mind, shopping and home design tips, as well as special product selections are being introduced.
HomeThangs.com introduced a selection of contemporary bathroom vanities that combine combine the decadence and beauty of an antique or traditional vanity with the sleek simplicity of a modern design, as well as a shopping guide on what to look for in a vanity when going for the casual contemporary look.
1. Swapping up the cabinet hardware can make a surprisingly big difference. In a vanity where the woodwork and design is more ornate than that on most contemporary vanities, like Dark Brown Vanity by Silkroad for example, with lots of beautiful layered paneling and many small doors and drawers - the simple stainless steel bar and button handles stand out like little exclamation marks against the dark wood. Most bathroom vanities in this structural style would opt for antique brass knobs and pulls, but the simple swap to more modern fixtures completely changes the character of the vanity.
2. The same goes for the Modena Vanity from Sagehill Designs. The vanity is made of solid maple with real cherry wood veneers – a material choice that sets it apart from many modern vanities all by itself. It also undergoes a special aging process designed to emphasize the natural grain of the wood, much like many traditional or antique style vanities. But, the design is very simple, with very little, and the drawer pulls are absolutely modern: simple brass bars and unadorned square knobs, which combine to give the overall aesthetic a comfortable, casual feel of modern design with all the warmth and luxury of more traditional decor.
3. Wood finish is a major consideration when it comes to contemporary bathroom vanities. Because their structural design is typically fairly minimalistic, the wood grain really becomes the star of the show. The Milltown by Sgehill really stands out from the crowd because of its prominent rustic woodwork. Like many of Sagehill's vanities, this one is made of solid maple, but finished with a rough-sawed, worn wood with a striking finish. But other than the woodwork, this vanity lacks any ostentation: it's refined, simply finished, and surprisingly minimal, with all unadorned lines and simple weathered door pulls. It's the perfect way to get the rustic beauty of real hardwood in a more modern bathroom.
4. Contemporary bathroom vanities come in a whole variety of styles, though – some more modern than others, and some a little more traditional. The Dark Walnut Vanity by Silkroad, for example, actually errs a little more toward the modern, stripping away the paneling entirely and leaving a surface that's simple, seamless, and smooth all over, with those same eye-catching stainless steel bar handles. But it's kept from being completely modern by a few things: the beautiful dark wood, and the few curves the vanity does have, rounding the front doors and the bottom edge for the most subtle reference to an older style.
5. Another example of hardware being a big player - the Mahogany-Stained Bathroom Vanity from Silkroad Exclusive has almost no hardware at all. The glossy dark finish and beautiful detailed paneling are all antique elegance, but the barely-there pulls, and here also the exposed hinges add a significant pop of modernity that makes this vanity one that can fit into a bathroom, rather than one a bathroom has to be designed around. While many period styles have to be painstakingly integrated into the decor – and carefully matched – the simplified hardware takes away some of the stuffiness and allows to break a few rules.
6. Combining natural wood with bright modern fixtures, contemporary bathroom vanities are all about preserving a little of the formality of classical design while doing away with the stodginess and constraint. Both modern and antique design can feel a little uncomfortable – restrictive, because in their own ways each one comes with a laundry list of (similar) constraints: make it picture perfect, make it match, and then don't touch. But with something like the Lutezia Eleganze from Porcher, one gets the best of both worlds, without the mandate to keep the bathroom magazine-spread perfect 24/7.
7. Especially because modern bathroom decor tends to be a little on the chilly side with all that glass, steel, and solid-finish MDF, many people prefer the natural wood grain of a more contemporary vanity like the Cherry Finished Vanity from Legion for example.
8. Contemporary vanities come in a whole variety of shapes, sizes, and wood finishes, so no matter what style the bathroom, it shouldn't be hard to find one to fit. It's the combination of details that really gives the final effect. For example, a dark wood finish can work equally well with a modern and a more classic style if played up with the other elements right.
For example: the simple but elegant paneling on the Audrey 72 Inch Vanity from the Wyndham Collection references it's classical origin, but the same paneling and the same finish combined with different hardware and a modern vessel sink like that on the York Vessel Vanity from Hardware Resources, and it looks a lot more modern.
HomeThangs.com is not only a home improvement superstore, it also provides expert design tips and a comprehensive shopping guide, taking the ideas from professional interior designers, and offering tips to the consumers on how to pick the products to best suit their needs.