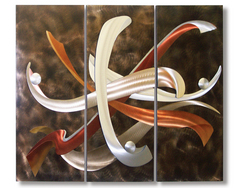 'New buyers are simply more excited by contemporary art,' said art adviser Diane Upright. 'Contemporary art appears more accessible and exciting in terms of scale and subject matter.'
Seattle, WA (PRWEB) May 21, 2008
Contemporary art lovers have a new venue to shop for wall decor and home accents. WallDecorAndHomeAcccents.com's new line of contemporary wall art is poised to suit their decorating tastes to a T. Launched on May 1, 2008, the company's latest array of contemporary and three-dimensional wall art was hand-selected not only for its decorative appeal but also for its functionality. In honor of its new collection, Wall Decor and Home Accents has given itself a contemporary makeover that affords shoppers a smoother and more eye-appealing purchasing and visiting experience. Contemporary art lover who would like to extend their artistic preferences into their home decor can browse Wall Decor and Home Accents' new contemporary wall art lineup online now.
Earlier this week, Bloomberg news published the article "Big Spenders Dropped $1.56 Billion on Sport of Choice: Auctions." Therein, it was revealed that "some of the world's richest spenders … parted with $1.56 billion (at the recent New York auctions), confirming that contemporary art has become their sport of choice." The article went on to report: "'New buyers are simply more excited by contemporary art,' said art adviser Diane Upright. 'Contemporary art appears more accessible and exciting in terms of scale and subject matter.'"
In its ongoing quest to uncover the perfect home accents and decor to turn every homeowner's house into a home, Wall Decor and Home Accents is now catering to these big-spending contemporary art lovers. Each product in its new line of contemporary wall art is created out of hand-brushed aluminum. The variation in brushing techniques used in this assortment of functional art suggests rich dimensionality and bold graphic patterns for a homey finishing touch that ranges the gamut from clean contemporary to whimsical.
Also included among Wall Decor and Home Accents' newest collection of 38 contemporary art pieces is three-dimensional artwork. These decorative products are handcrafted from various metals and mixed materials that are enhanced with flame treatment or rich patinas. The artists and sculptors who create them have been hand-selected for their fine attention to craftsmanship.
Wall Decor And Home Accents' spokesperson Krasen Tomov is pleased with the results the company is seeing from its contemporary wall art collection and Website makeover. "We just launched the new product line on May 1, and already we are seeing more sales coming in every day. We attribute this success to the transformation we have made to the site."
For more information on WallDecorAndHomeAccents.com's new line of contemporary wall art, contact Krasen Tomov toll-free at (866) 342-0201. To see the company's contemporary new look and products, visit the online showcase at http://www.walldecorandhomeaccents.com/contemporary-metal-wall-art.html.
CONTACT INFORMATION:
Krasen Tomov
5422 B Fauntleroy Way SW
Seattle, WA 98136
(866) 342-0201
info @ walldecorandhomeaccents.com
http://www.walldecorandhomeaccents.com
###