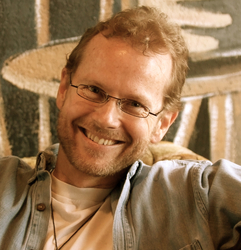 Some of those sounds are rhythmical, and some are more airy and tranquil
Myrtle Beach, South Carolina (PRWEB) August 26, 2009
When Geof Kimber arrived on America's shores twenty years ago, he had little idea how much his origins would stay with him and contribute to his musical style. Interwoven through his music lately is the third world and western influences of his youth.
"I was born and raised in Papua New Guinea to an Australian father and a New Zealand mother, and married a southern belle from SC, USA. And we drive a car from Japan," quips Geof. He has worked as a featured performer in family variety shows "The Myrtle Beach Opry" and "The Carolina Opry" in Myrtle Beach SC, and as an independent Christian artist. Working in that capacity for fifteen years, he has traveled extensively across the U.S. and Canada.
In recent years his music has also been taking a new turn, with a style that reflects the music of his upbringing. Kimber grew up hearing the Papua New Guinea sounds of kundu drums and pan flutes, bush marimbas and conch shells. Growing up near a mission station which had a well run music program, he also learned to play western instruments like piano and guitar. He even played the trombone in a dixieland jazz band.
"Some of those sounds are rhythmical, and some are more airy and tranquil," explains Geof. "The musical styles are both contemporary and classical. Combine them and you get - well, a little Backyard Beethoven."
Intrigued with keyboards and electronic instruments, Kimber branched into the world of recording as he grew older. That interest has resulted in him putting together his own studio, headed up with an Apple computer and various instruments he has accumulated since leaving Papua New Guinea.
Named after the valley he grew up in, the music of Backyard Beethoven is recorded on Kimber's Aiyura Music label. Geof enjoys sitting down to play some quiet music at the end of a busy day, and his playing often results in a new tune. Recently he started arranging and recording some of them, with a debut CD scheduled to be released in September 2009. Music from his new CD can be heard at his website, http://www.backyardbeethoven.com.
###