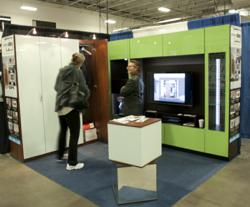 Passaic, NJ (PRWEB) February 23, 2012
Contempo Space has nearly 50 years of experience crafting custom modern furniture. This past weekend, Feb. 17-19, 2012, representatives from Contempo Space exhibited at the ACS New Jersey Spring Home Show at the Meadowlands Expo Center in Secaucus, NJ. The representatives connected with customers and colleagues, showcasing new products from Contempo Wall and Contempo Closet with great zeal and success.
"It's always fun to come out here and meet with the customers," says Contempo Space representative Gary Flax. "It helps to get a real sense of what people are looking for and what they want, which helps us design furniture that looks great and fulfills people's needs."
Exhibiting at Booth 411, the Contempo Space representatives passed out leaflets and brochures to interested customers, while also highlighting new features and designs from Contempo Space. Contempo Space placed two products on display – Contempo Closet's Alpha Wardrobe Collection and a customized Tristan Wall Unit from Contempo Wall.
Contempo Space's new LED light solutions were received with particular intrigue. Customers were treated to a demonstration of Contempo's new light solutions as LED bulbs flickered on and off with opening closet doors and strip lights created a radiant halo surrounding mirrors and shelves.
Contempo Space, with family brands Contempo Wall, Contempo Closet and Contempo Sofa, specializes in custom home furnishings, including wardrobes, entertainment centers and wall units. Design consultants and craftsmen work with customers to create the perfect piece for any space. Delivery and on-site assembly are also available upon request.
For more information on products and services, visit ContempoSpace.com. For further updates, follow Contempo Space on twitter via @ContempoSpace and at Facebook.com/ContempoSpace.
###