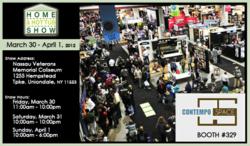 Passaic, NJ (PRWEB) March 15, 2012
For nearly 50 years, Contempo Space has provided quality, hand-made custom furniture to customers throughout the US. The weekend of March 30 – April 1, 2012 representatives from Contempo Space will be appearing at the ACS Long Island Spring Home, Hot Tub & Landscape Show, highlighting the best in home décor. Contempo Space will be appearing at booth 329, where they will showcase products from family brands Contempo Closet and Contempo Wall.
The ACS Long Island Spring Home, Hot Tub & Landscape Show will be held at the Nassau Veterans Memorial Coliseum. The show is free to attend and parking is available at no charge. Strollers are welcome and refreshments will be available for purchase. The facility does have wheelchair access; however, wheelchairs will not be available for public use.
The show will begin Friday, March 30 at 11am. Friday night the show will close at 10pm. The show shall resume Saturday, March 31, at 10am then close at 10pm that night. Sunday, April 1, the final day of the show, the show will open at 10am and close at 6pm.
The Nassau Veterans Memorial Coliseum is located at 1255 Hempstead Turnpike.
For more information regarding the ACS Long Island Spring Home, Hot Tub & Landscape Show, please visit the event webpage.
Contempo Space, along with family brands Contempo Wall, Contempo Closet and Contempo Sofa, specializes in custom home furnishings, including wardrobes, entertainment centers and wall units. Design consultants and craftsmen work with customers to create the perfect piece for any space, hand-crafted to meet the customer's specific needs. Contempo Space can even take the extra step to deliver and set up furniture onsite, leaving the customer free to sit back and enjoy.
For more information on products and services, visit ContempoSpace.com. For further updates, follow Contempo Space on Twitter via @ContempoSpace and at Facebook.com/ContempoSpace.