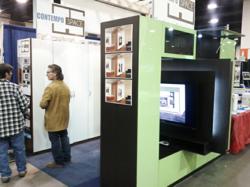 Passaic, NJ (PRWEB) April 06, 2012
Last weekend, representatives from Contempo Space exhibited at the ACS Long Island Spring Home, Hot Tub and Landscape Show at the Nassau Veterans Memorial Coliseum in Uniondale, NY, showcasing new products from Contempo Wall and Contempo Closet to intrigued show attendees.
"We always enjoy coming to shows like these where we get to meet with lots of customers," says Contempo Space representative Gary Flax. "It helps us get a real sense of what people are looking for and what they want, which informs our future designs."
Exhibiting at Booth 329, Contempo Space representatives passed out leaflets and brochures to eager show-goers, while also highlighting new features and designs from Contempo Wall and Contempo Closet. Contempo Space placed two products on display – the Alpha Wardrobe Collection from Contempo Closet and a customized Bronson Room Divider from Contempo Wall.
Both pieces were fit with Contempo Space's new LED light solutions, which were received with particular intrigue. Customers were treated to a demonstration of Contempo's new light solutions as LED bulbs flickered on and off with the opening and closing of closet doors, while strip lights created a radiant halo surrounding mirrors and shelves.
The Bronson Room Divider's swiveling centerpiece was also a head-turner. Outfitted with ambient lights and a flat screen television, the centerpiece rotated a full 180 degrees, much to the delight of several show attendees. The attractive finish options and abundant storage space were also points of interest for many.
Contempo Space, with family brands Contempo Wall, Contempo Closet and Contempo Sofa, specializes in custom home furnishings, including wardrobes, home entertainment centers and wall units. Design consultants and craftsmen work with customers to create the perfect piece for any space, hand-crafted to meet a customer's specific needs. Contempo Space will even take the extra step to deliver and set up furniture onsite, leaving the customer free to sit back and enjoy.
For more information on products and services, visit ContempoSpace.com. For further updates, follow Contempo Space on Twitter via @ContempoSpace and at Facebook.com/ContempoSpace.