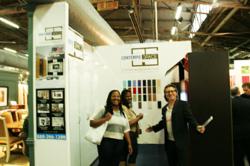 Passaic, NJ (PRWEB) March 27, 2012
Every year Architectural Digest, the leading international Interior Design authority, hosts the Architectural Digest Home Design Show in Manhattan, gathering thousands of designers, architects and consumers to view the latest innovations in architecture and design. This year, representatives from Contempo Space were proud to be there exhibiting their latest room divider and wardrobe closet products.
At Booth 511 Contempo Space demonstrated the state-of-the-art new features of their latest designs. With two extraordinary products on display – Contempo Closet's Custom Wardrobe Collection and the Bronson Room Divider from Contempo Wall – the show's attendants were dazzled by the sleek modern edges, creative finishes and innovative engineering prowess of Contempo artisans and their progressive approach to modern design fundamentals.
Attendees stood rapt as the Bronson Room Divider's swiveling centerpiece and elegant finish grabbed eyes and boggled minds. With a flick of the wrist, the Bronson's centerpiece rotated a full 180 degrees and back again, letting a flat screen TV and a bookshelf trade places with nothing more than a light touch.
The two products also revealed Contempo Space's latest developments in LED lighting technology to scores of trade show attendees. The lights illuminated dark wardrobe spaces and garnished the fine-tuned geometry of the brand's modern furnishings with a vibrant accent.
"It's a real privilege to come to shows like this because we get to witness how designers and consumers react to our products, firsthand," says Contempo Space design consultant Gary Flax. "We'll use this feedback to further adjust our design choices and craft furniture solutions that continue to not just look great, but provide a suitable response to the modern consumer's ever changing needs."
Contempo Space, with family brands Contempo Wall, Contempo Closet and Contempo Sofa, specializes in custom home furnishings, including wardrobes, home entertainment centers and wall units. Design consultants and craftsmen work with customers to create the perfect piece for any space, hand-crafted to meet a customer's specific needs. Contempo Space will even take the extra step to deliver and set up furniture onsite, leaving the customer free to sit back and enjoy.
For more information on products and services, visit ContempoSpace.com. For further updates, follow Contempo Space on Twitter via @ContempoSpace and at Facebook.com/ContempoSpace.