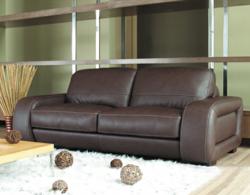 Passaic, NJ (PRWEB) February 10, 2012
NJ Furniture Manufacturer Contempo Space is pleased to announce the arrival of their latest custom furniture brand, Contempo Sofa, a new home to all sofa furnishings crafted under the Contempo Space brand. Combining elegant materials and years of professional design experience, Contempo Space is boldly delving into a new realm of luxury home furnishings, custom designed for the modern home.
Contempo Sofa's line of thirteen sofa products are primarily upholstered in 100% Italian Leather, however select products are available in microfiber upholstery. All Contempo Sofa furnishings feature a corner-blocked, double-doweled, solid hardwood frame, loose, Velcro-fastened back pillows, a high density foam core, and a no-sag continuous coil spring for added support.
The Contempo Sofa line includes a wide array of home seating options, including armchairs, love-seats, spacious luxury sofas, sectionals and home theater seating. All options are freestanding.
Along with family brands Contempo Wall, Contempo Closet, and Contempo Sofa, Contempo Space specializes in custom home furnishings, including wardrobes, entertainment centers, sofas and wall units. Design consultants and craftsmen work with customers to create the perfect piece for any space, hand-crafted to meet the customer's specific requirements. In-home delivery and placement are also available upon request.
For more information regarding products and services, visit ContempoSofa.com For further updates, follow Contempo Space on twitter via @ContempoSpace and on Facebook at facebook.com/ContempoSpace.
# # #