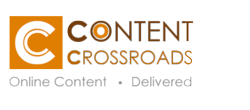 We create original and good quality content that will help you in your
online marketing efforts to attract and engage customers regularly
Indianapolis, Indiana (PRWEB) January 23, 2013
Making marketing content stand out from an ocean of similar websites, email campaigns, newsletters etc. is just one of the things that businesses need to tackle, whilst bringing their next big marketing strategy to reality. The finer aspects of content creation, for example, choosing keywords that appeal not only to Google, but also to readers, is an expertise that needs to be inculcated. An expertise that Content Crosswords – a company that has created millions of words of content - promotes through its shiny new website – ContentCrossroads.com
Content Crossroads, a company that specializes in generation of content suited for almost any industry, launched a new avatar of its website on January 5, 2013. With its responsive design and straight-forward pricing, contentcrossroads.com ensures that its clients can find information easily, and get going with their content marketing strategy quickly.
Blogging and article writing, website content, newsletter content, research on infographics, etc. is done through a well-oiled writer network specialized for specific content needs. Equipped with a content writer management platform to efficiently track the entire lifecycle of the content development platform, contentcrossroads.com allows stakeholders to view, edit, accept and approve content with the click of a button.
ContentCrossroads.com, backed by a network of writers specialized for each industry and a mature writer management platform gives an insight into the superior quality of services they provide:
Blogging and Article Writing is not just a way of driving traffic to a website, but also helps in maintaining a brand image online and ensuring high levels of customer engagement. This also involves development of a workable content strategy, acquisition of business team perspectives on blogs, moderation of blog comments and ensuring the frequency of blogs.
Website Content Creation with search engine optimized content, thorough understanding of business goals backed up with research, is something that every business strives at building. Content Crosswords helps businesses tell their story in the crisp Internet verbiage.
Newsletters should never be a mundane list of products on sale for the day, or a research article that was featured on a business magazine. Content curation through catchy titles, interesting links, engaging content etc. is how Content Crossroads helps business owners to communicate periodically with their customers.
Trade Briefs & Press Releases that makes heads turn, literally. But honestly, who'd read them otherwise? Content Crossroads helps businesses structure professionally written trade briefs and news releases that highlight events in their industry and helps build trust. In short, content that gets potential investors, customers, media professionals and subject matter experts curious.
Research on Infographics and other business collateral is done by Content Crossroad's research team by conducting secondary research on topics, collating data from credible sources, and presenting them in an attractive and easy-to-read format. This serves as an excellent input for infographics, blogs, whitepapers and articles.
Social Media, SEO Audits, Programming and Migration Services and even better Custom Content Development tailored around a business' content needs for catering to customers through social networking sites, online portals, etc.
Content Crossroads, is confident that their experience with working with customers globally (10000 blogs, 500 articles, 480 newsletters, 120 tradebriefs) will ensure that the right content is delivered to your business and in turn, the content delivers for you. To know more visit – http://www.contentcrossroads.com/