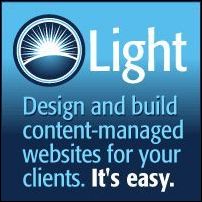 Chad is very different from your typical technical support contact
Oklahoma City, OK (PRWEB) April 3, 2007
Light, the resellable content management system for designers and agencies, announces the addition of a web concierge to its client support team. Much like the concierge of a fine hotel, the web concierge exists to provide first class service to customers. In this case, those customers are web designers and advertising agencies who use Light to design and build content managed websites for their own clients.
Light is an online, hosted content management system that allows designers and advertising agencies to private label it and resell it as their own.
"Our goal is to help our designer and agency partners get their first few websites up and running as quickly and easily as possible," explains Tim Wall, Director of Product Marketing for Element Fusion, the Oklahoma City based Internet development company behind Light. "The web concierge service provides a direct line of contact and support for these professionals as they get started reselling Light. It's a win-win solution to which we are 100% committed."
The company emphasizes that the web concierge is much more that what you might expect from a technical support team member. The employee assigned to fill the role is Chad Jaggers, who has served at the company for more than three years.
"Chad is very different from your typical technical support contact," says Ryan Whitaker, owner and CTO of Element Fusion. "He is a high-level employee who has served our company as IT Director for many years. By making him our web concierge, we are saying to all of the designers and ad agencies out there that we truly value your partnership and we're willing to commit valuable resources toward helping you succeed."
Designers and agencies who would like to experience this new level of service on Light are encouraged to visit the product website to create a free account and even attend a live online demo.
The concierge service is available to all users of Light at no charge.
###