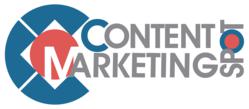 The good news is there are over 25 different types of content marketing tactics that businesses can deploy depending upon preferences for digital media marketing channels.
Littleton, Colo (PRWEB) November 20, 2012
Businesses competing on the internet have found it a challenge to publish enough quality content and media to match their online competitor's furious pace of publishing. It has become evident to search engine optimization consultants that new types of services such as content marketing serve clients more effectively than obsolete SEO tactics used in 2011 and prior years.
Contentmarketingspot.com was launched to be a new resource for providing valuable information, web content strategies, copy writing services, and actionable marketing tactics for companies to build-out their web publishing footprint and differentiate their companies from competitors, by being found and engaging people in more places and marketing channels online.
The field of content marketing is realizing a high rate growth to keep up with the many different types of promotional methods used by savvy marketers. Paid search advertising has become cost prohibitive opening the door for learning new ways to connect businesses to their target market cost effectively. To meet changing market place needs, SEO Consultants and professional digital marketing agencies are adding suites of content marketing services into their product mix with the goal of trying to help businesses connect to potential new customers by distributing creative or informative web content that engages audiences in the marketing channels where they are communicating and interacting online.
To realize content marketing benefits and full potential, company online communications are explicitly planned and published with the intent of engaging, entertaining, impressing upon, nurturing, affecting, informing, raising awareness, answering questions, sharing, and ultimately connecting with people where they interact on the internet to resolve curiosity.
Traditional media outlets such as television, print media, magazines, trade journals, direct mail, and radio advertising cast a wide and broad message that may not be as effective at reaching target audiences, developing new business, and building brand awareness.
According to the Content Marketing Institute and Marketing Profs "On average, B2B marketers are spending 33% of their marketing budgets on content marketing, which is up from 26% last year. 54% plan on increasing content marketing spending next year." These are significant growth numbers that validate one of marketing's newest tools for getting their message in front of people.
Content Marketing Tactics
The new web site Contentmarketingspot.com list over 25 content marketing tactics. Some of the most widely used tactics include the publishing of White Papers, Free Reports, Case Studies, How To Guides, Social Media content, Podcasting, Mobile Search, Streaming Video, Video marketing, E-Books, FAQ pages, Local SEO Review sites, RSS Feeds, Infographics, Document Sharing Sites, Customer Surveys, business blogging, and the list goes on.
The key point for companies to realize is that there are many different possibilities for publishing content and media online that can help improve their marketing effectiveness statistics and percentages. The end goal is to attracting targeted leads into their marketing funnel that eventually leads to a desired call to action choice, or collection of data, opening up the door for further communications in the future, new potential sales transactions, or live customer interactions that helps build trust.
About the Company
Contentmarketinspot.com is a Colorado content marketing company offering a full suite of internet marketing services including creation of content, copy writing services, press release writing and distribution, search engine optimization, and social media marketing programs.
Contentmarketingspot.com
5744 S Harlan St.
Littleton, CO 80123
email: webmaster@contentmarketingspot.com