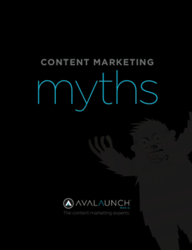 Salt Lake City, UT (PRWEB) July 19, 2012
Bringing a refined approach to online promotion, Avalaunch Media is proud to launch as the newest content marketing company. Avalaunch bases its practices on an understanding that standard Internet marketing practices aren't effective without a secret sauce— framing facts and content so people will take notice.
Avalaunch believes content marketing is the root of corporate storytelling delivered through the creation and distribution of content that is recognized by search engines and consumers alike as valuable and informative. The Avalaunch founders know that when content is shared and re-shared, a company can quickly be positioned at the top of Internet searches, and maybe more importantly the company can be positioned as an industry expert. With the knowledge of this tremendous opportunity to help other businesses grow their online presence and influence, they formed a team of experts to extend their services.
Avalaunch is not your average Internet marketing company— its team consists of successful business owners, attorneys, MBAs, and professionals with years of experience in both the public and private sectors. The founding Avalaunchers, Matt Siltala, David Mink and Andrew Melchior, are frequent speakers at industry events like SMX, Pubcon and Search Engine Strategies and are the masterminds behind the content marketing strategy with a proven track record to trump the myths about the online marketing industry.
The Five Myths:
1. Your buyers don't use social media or consume online content.
2. It's not smart to spend marketing dollars producing content that is not all about my brand.
3. You don't have the time or budget to produce the kind of content people care about.
4. Creating super content is all you need to do.
5. You can't measure the ROI with content marketing.
The Avalaunch founders have proven these concepts to be myths and debunk them with five truths on which they base their business and successes. Find the truths at avalaunchmedia.com.
Avalaunch provides services that go beyond traditional and trend SEO practices with a more in-depth methodology than what you find being offered at most "SEO" companies. Avalaunch's core offering, content marketing, is the over-arching face to an intelligent service that encompasses much more. To achieve desired results, Avalaunch offers many services: consulting, infographics, linkbait articles, pay-per-click management, reputation management, search engine optimization, and social media promotion. Together, these services create lasting impressions, loyal viewers, stronger brand identity, increased site traffic, higher search engine rankings, and reduced cost per sale.
"The nature of online rankings and reputation management isn't what it used to be. In fact, it has changed into something much more sophisticated than most people realize," said David Mink, founding launcher of Avalaunch Media. "Our solutions are provided by a team with years of experience and a proven track record. The results of our services not only increase the visibility of every business we work with, but also bring higher traffic and more revenue to the online segment of their business."
Some of the most common content marketing tactics are article posting, social media, blogs, email campaigns, case studies, videos, white papers, webinars, print magazine, research reports, branded content tools, newsletters, eBooks, podcasts, mobile content, digital magazines, and virtual conferences. Avalaunch believes that all of these tactics together create brand awareness, customer acquisition, lead generation and customer retention loyalty.
###
About Avalaunch
Avalaunch Media's core offering, content marketing, is supported by several services: consulting, infographics, linkbait articles, pay-per-click management, reputation management, search engine optimization, and social media promotion. Avalaunch's team is led by a team of industry professionals. Meet the Avalaunchers: Andrew Melchior, David Mink, Mat Siltala, Luke Alley, and Brandon Buttars.