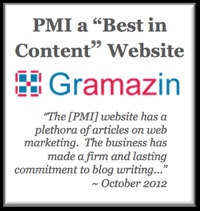 We're firm believers in the value of content marketing for businesses of all sizes
Reading, PA (PRWEB) November 13, 2012
In an October, 2012 analysis of content quality from 500 Philadelphia area websites for small businesses, PMI received the top award in the Marketing and Web Design category, with a score more than double the average of the 40 Philadelphia area marketing and web design websites surveyed, and a top-10 rating among the 500 sites overall.
The survey, performed by Gramazin, included organizations throughout Berks, Bucks, Montgomery, Delaware, Chester, and Lancaster counties.
"The [PMI] website has a plethora of articles on web marketing," noted Gramazin. "The business has made a firm and lasting commitment to blog writing. They have included a white paper and videos."
Criteria for the award include:

Indications of fresh content
Volume of articles and posts
Number of social media followers
Conversation with followers
Sharing of tips and how-to content
Promotion of non-routine offline events
Sharing of stories and testimonials
Clear calls to action
Content that gives the discourage visitor hope
"We're very happy to have been recognized for the quality of our content", noted Alan Robezzoli, president. "We're firm believers in the value of content marketing for businesses of all sizes, and work hard to provide practical, insightful information to help organizations excel in their online marketing efforts. The recognition by Gramazin encourages us to work even harder for our readers."
About Power Marketing International, LLC
Power Marketing International is a marketing, web design, and search engine optimization firm located near Reading, PA, serving Berks County, Lancaster, Philadelphia, Allentown, Harrisburg, York, PA and points in between. PMI specializes in keyword-driven web design, web marketing, and social media marketing services for small and mid-sized companies. They offer a free, no-obligation initial consultation to qualified customers. Find them at http://www.PowerMarketingInternational.com
About Gramazin
Gramazin is a Philadelphia area consulting firm with a passion for changing lives across the country. They want each local organization to have a content-rich website that gives the viewer confidence they can trust the organization. Find them at http://www.Gramazin.com