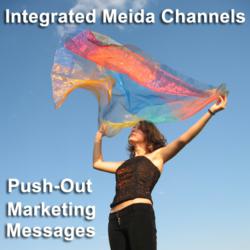 By reallocating client marketing spending from a single-channel, ineffective approach to a proactive, integrated strategy, a company is more relevant and has multiple channels working to push out content marketing. ~ Eric Sims
Minneapolis, Minnesota (PRWEB) October 09, 2012
A first-ever Content Marketing Survey Report sponsored by Outbrain from research produced with the support of the Association of Online Publishers and the Content Marketing Association has been created. In today's banquet of media channels, marketing mediums, and greater ability to produce innovative marketing messages, the report's cumulative insights are important for business to keep in the main stream of agile marketing.
Eric Sims, owner of Integral Media commented, "Many marketers that we have worked with have started with an emphasis and expertise in one media channel and are uncertain how to expand their presence efficiently in new channels. With our proven discovery process, we have helped many advertisers find innovative ways to promote their products in new media channels with fresh content. We are particularly adept at helping marketers expand beyond just their online marketing efforts, as the majority of customers for most products and services are reached offline."
Four basic highlights from the findings are:

Over 90% of respondents believe that content marketing will become more important over the next 12 months. That is not to say that the other 10% didn't find it important. The emphasis is "more important" or moving content marketing up the Richter scale.
Nearly three quarters or 73% of digital marketers carry the opinion agreeing with the premise that 'brands are becoming publishers'.
Less than half of companies have dedicated budgets (34%) or individuals dedicated (46%) to content marketing.
Increased engagement is the most commonly cited objective for content marketers, with 52% of in-house marketers and 58% of agency marketers listing this as one of their top three business objectives.
Too many marketers only have budgets dedicated to a single channel approach to marketing and haven't adjusted to compete fairly in their respective and advancing markets. Perhaps it is hard to square being wrong or the added costs of budgets to cover multiple channels of marketing content. Perhaps fear of embracing the expansive growth necessary that forces a company to hire out or lean how to become Marketers. Gripping tightly to the strategies of familiar yesterdays doesn't work. The survey heightens the urgency that companies face to step into the world of multichannel marketing and prioritize fresh content.
Integral Media has found three basic steps effective to help companies add channels of new content to their integrated media mix and achieve greater success, faster, with less chance of failure.
1.) Research, Dissect and Digest Your Company Data
Everyone has a story of significance. Out of the wealth of a company's customer and prospect data, there are buried stories to uncover. Marketers must know who is buying, what,marketing content brought them to the decision point, what products they are buying, how much they are spending on similar purchases and what up-sell/cross-sell strategies are working. Equally as important is what content marketing messages are not generating results.
2.) Add One New Medium Driving Content Marketing at a Time
Tracking, measuring and reacting to each medium employed will maximize content. Segmenting, and gauging impact to see just what the measurable numbers tell, and which channels used for distributing marketing content are most effective.
3.) Analyze Results
Finally, it is important to take what the company data is saying to shape fresh marketing content
and add or take away channels as needed.. Your multichannel campaign needs to be predicated on continuous improvement and the only way to do that is to analyze each step of the way.
The growing importance of content marketing underscores how important to have integrated media channels in place. Content media deployed effectively, is integral to the success of any business marketing campaign. Invest in the Content Marketing Survey Report. Contact Integral Media to expand your marketing efforts by calling 952-470-5254.