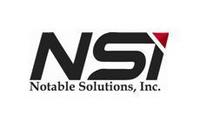 With AutoStore I can process 10 letters in the time it used to take for one letter.
Rockville, MD (Vocus) May 26, 2010
Ten U.S. congressional offices have chosen AutoStore from Notable Solutions, Inc. (NSi), a leading developer of distributed content capture and workflow solutions, to capture correspondence from constituents. AutoStore's advanced and broad support for MFP capture and integration with Lockheed Martin's government-oriented Intranet Quorum® (IQ) content management system were key selection criteria.
Offices representing Alabama, California, Florida, Illinois, Mississippi and the state of Washington have purchased AutoStore so far.
AutoStore is a server application which orchestrates the capture and secure delivery of paper and electronic documents into business applications. NSi supports more brands and more models of multifunction devices than any other software developer, including touch screen and control panel support for many older models.
Solution Increases Capture Productivity by 1000 Percent
Each of the nation's 435 congressional offices receives thousands of individual constituent communications each month. Each office is obligated to catalog and acknowledge receipt of all correspondence.
The AutoStore solution replaced a process that required manual scanning to email, re-saving and renaming each document and manual importation into the Lockheed IQ ECM system. "With AutoStore I can process 10 letters in the time it used to take for one letter," says the office manager for an Illinois congressman.
Now, the congressman's staff member logs in to the MFP using the touch screen and scans directly to the IQ system. Users may even search the IQ system for a specific constituent or mail record from the MFP's control panel and append the correspondence to that individual's archive.
"Most congressional offices manage their correspondence using Lockheed's IQ, which has been optimized for government processes," says Mike Morper, NSi's vice president of marketing. "Once correspondence arrives in IQ, the information is secure and accessible for anyone authorized to use the system. How the correspondence is captured and indexed has been the primary challenge. Thanks to AutoStore, the MFPs and the IQ system are now a single, integrated, simple-to-use system."
Server-Based Architecture Enables Efficient, Secure Workflow And Archiving
Many corporate MFPs ship with basic scan-to-email or scan-to-folder capabilities but fall short of what's required to be an efficient, secure component of an enterprise process automation or archiving solution. AutoStore's server-based architecture replaces scan-to-email attachments with pointers to the file's location in a repository or folder -- reducing the load on email systems and networks -- replaces random naming with structured, intuitive file naming conventions, and replaces individual device management with remote, centralized management of every MFP in the enterprise. It also adds a full audit trail for security and regulatory compliance.
This flexible platform can handle anything from ad hoc scanning to complex, high-volume capture workflows, automated data extraction and integration with multiple line-of-business or archival applications -- all from the user's familiar MFP control panel.
Personalization, Automation and Conversion Tools
By logging in using the control panel, users may also personalize their scanning, workflow and output options. Users can easily build a capture workflow using the MFP's touch screen and NSi's intuitive on-screen forms. For example, they can select what document indexing data to capture, whether it is automatically extracted from bar codes or machine-printed characters and how the data is validated. Conversion choices include PDF, Microsoft Office and more. Finally, they can select secure delivery of scanned documents and data into more than two dozen document and content management systems.
About Notable Solutions, Inc. (NSi)
Notable Solutions, Inc. (NSi) is a leading provider of paper and electronic content capture and business automation solutions. NSi's flagship product, AutoStore, captures paper and electronic documents from a copier, scanner, or printer, then routes the information into the appropriate business system based on the document type. As a result, business is done faster, with less effort -- and with less paper. AutoStore is the information on-ramp for nearly 500 models of MFPs and network-attached scanners -- from Fujitsu, HP, Kodak, Kyocera, Lexmark, Ricoh, Savin, Lanier, Sharp and Xerox.
###