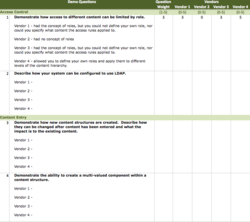 Bedford, Nova Scotia (PRWEB) May 10, 2013
EverAge Consulting Inc. has defined a content management system selection process complete with templates, to ensure the selected platform is the best match for the business requirements. EverAge Consulting has identified the number one problem with implementing most content management systems as the desire to go shopping for products before sitting down and gathering requirements as to what is needed.
"People are sold on flashy demonstrations, and they're not taking that product into context of how they're going to be using it in their own organization. And by the time they get it implemented it's too late. It doesn't really meet their needs; there's a large backlash from the user community, and the system ultimately is going to fail." says Andrew Wilcox, President of EverAge Consulting.
Proper selection process should follow a four step process: Business Requirements, Technical Requirements, Demo Script, and Evaluation.
A description of these steps as well as a complete set of templates to assist in the process are available on EverAge Consulting's video blog.
About EverAge Consulting:
Since it inception in 2001, EverAge has witnessed an explosion in the variety of information management needs. EverAge focuses on 4 distinct practices within the umbrella of information management: Component Content Management (CCM), Web Content Management (WCM), Document Management (DM), and Mobile Content Management (MCM). Each of these areas share common aspects of content management, but differ in their focus and supporting business model. In many projects, we see overlap between these areas as clients strive to solve content management issues unique to their industry and product offering. With a combined experience of over 30 years, EverAge brings senior level professionals to identify, prioritize and strategize on your concerns and needs to identify the best solution that meets both fiscal and competitive needs.