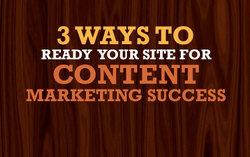 Content sharing represents a huge opportunity to stimulate stronger brand interactions without incremental investments, but the programs can be difficult to scale without the right technologies
Portland, OR (Vocus) June 26, 2010
White Horse and Ektron are offering a complimentary Webinar to help digital marketers drive stronger business results by making their content more shareable. The Content Management Approach to Content Marketing: Three Keys to Website Success Webinar is available to http:download now.
In the social media era, purchase decisions are increasingly influence by peer collaboration online. To participate in social media conversations, marketers can advance brand goals by sharing value-add brand tools and information with prospective customers during the consideration cycle. In this Webinar, VP of Marketing at White Horse, Eric Anderson, explores the three imperatives for content marketing success. Among them, he talks about a content management system's role a successful blog, ways to make content more shareable and how to initiate and sustain customer conversations in social forums.
Webinar participants will gain a clear understanding of content marketing opportunities and proven techniques to advance their content reach. For companies who would like to create more impact with their existing materials, it offers fresh ideas for broad content distribution to extend results.
"Content sharing represents a huge opportunity to stimulate stronger brand interactions without incremental investments, but the programs can be difficult to scale without the right technologies," said Eric Anderson, VP of Marketing at White Horse." "This Webinar covers three content management approaches to content sharing that will stack the odds on the program's success," he added.
Download the Content Management Approach to Content Marketing Webinar. Visit the White Horse Resource Center.
About White Horse
White Horse is a 30-year-old digital marketing agency specializing in the convergence of emerging and traditional media to create immersive Web experiences. White Horse services include Web development, digital marketing, technical engineering, emerging media, and audio/video production. View the White Horse portfolio.
# # #