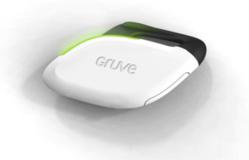 We want to educate people that living a healthy lifestyle doesn't have to mean sweating in the gym five hours a day
Minneapolis, MN (PRWEB) August 28, 2012
Gruve Technologies, Inc. announces that their successful "Gruve to Green" national photo contest will continue through October, 2012. Over the last three months, winners were selected and awarded a free Gruve activity monitor that included a 12-month online membership. The contest aims to create awareness about the Gruve Solution(TM) which provides a sustainable path to long-term weight loss for people regardless of their current fitness levels. The Gruve Solution was inspired by Mayo Clinic researcher James A. Levine, MD, PhD, and his work on non-exercise-activity thermogenesis, known as NEAT.
The science behind N.E.A.T. proves that increasing everyday movements like walking, standing, or bending helps outsmart sedentary lifestyles, improving health and even leading to weight loss. To encourage behavior changes in the users, the Gruve activity monitor, a component of the Gruve Solution, provides three forms of immediate feedback. A color status light moves from red to orange to yellow to blue and ultimately to green as the users burn calories throughout the day to reach their target or "green" goal. Subtle vibration reminds users to move if they have been still too long. And, the device syncs to a highly interactive website that provides motivation, education and support. Users can view their monthly, daily, hourly and even minute-by-minute calorie burns through dynamic charts that engage them in an exciting, informative style.
"We want to educate people that living a healthy lifestyle doesn't have to mean sweating in the gym five hours a day," says Dr. Robert Gauthier, CEO, Gruve Technologies, Inc. "Our goal for this contest is to raise awareness on how making small changes each day can lead to big results whether that means weight loss or reaching other health goals."
Gruve Technologies invites people to enter the "Gruve to Green" photo contest by submitting a photo of someone doing a N.E.A.T. activity. For complete rules and to enter, visit http://www.gruvetechnologies.com/contest.html. The photo contest ends on October 31, 2012.
About Gruve Technologies, Inc.
Gruve Technologies, Inc. provides scientifically validated weight loss and wellness products designed to provide a long-term sustainable path to better health. Headquartered in Minneapolis, MN, Gruve develops innovative technology and products based on cutting edge medical research that are proven effective to modify behavior and aid in weight loss. For more information, visit http://www.GruveTechnologies.com.
###