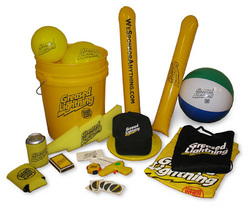 Every day across this fine country of ours, people are hosting events important to them - poker night, backyard Olympics and rock-paper-scissor tournaments - all without proper sponsorship. It didn't seem right to us, so we have decided to spread the sponsor love
Atlanta, GA (PRWEB) May 27, 2008
Those other companies can have their luxury box suites and Bowl Game sponsorships. Greased Lightning wants dibs on the soapbox derby or doggie tea party. With today's launch of wesponsoranything.com, Greased Lightning, the multipurpose cleaner and degreaser that cleans when others can't, is now also sponsoring what others can't.
Here is how it works:
1 - Visit wesponsoranything.com and explain why your event deserves a Greased Lightning sponsorship.
2 - If your event is selected, you receive a Greased Lightning party kit with all the makings of a great event, such as temporary tattoos, foam lightning bolts and squirt guns.
3 - Make a video of all the fun you and your friends are having at your event and upload it to the website.
4 - Tell everyone you know to vote for your video on wesponsoranything.com. The event with the most votes wins $5,000.
"Every day across this fine country of ours, people are hosting events important to them - poker night, backyard Olympics and rock-paper-scissor tournaments - all without proper sponsorship. It didn't seem right to us, so we have decided to spread the sponsor love," says Helmut Baker of Greased Lightning.
Hosts and hostesses everywhere will rejoice in the Greased Lightning party-in-a-box, which includes essentials such as plates, cups, a tablecloth and decorations. There's even a customizable poster to announce the festivities.
Event ideas are now being accepted on wesponsoranything.com. The submission team will review all requests and mail a party kit to those selected each week. Participants then have until August 13 to upload their video to the website, where visitors can comment on and rate them on a scale of one to five. Twenty finalists will be announced on August 16, and consumers will have until September 1 to vote for their favorite. The finalist that receives the most consumer and judging panel votes will be chosen as the winner of the competition and awarded the $5,000 grand prize.
About Greased Lightning® Multipurpose
The Original Greased Lightning Multipurpose Cleaner and Degreaser is an amazing product from HomeCare Labs that will help consumers conquer even the toughest stains throughout their homes. This cleaner is time-tested for superior cleaning and stain-fighting power. Greased Lightning works well on tubs, showers, sinks, fiberglass and tile in the bathroom. In the kitchen, it will effectively clean stove vents, ovens, refrigerators and microwaves. It can be used as a laundry pre-treat for tough stains including grease, grass and ink, and it will remove soap scum, mildew stains, mud stains, pet stains, make-up, blood, wine and food stains. Greased Lightning cleans when others can't.
###