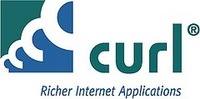 We've seen significant growth in the size of the Curl developer community in the past year
NEW YORK (PRWEB) September 16, 2008
Entries will be judged by a Curl panel of experts based on the following criteria:
1. Novelty and originality of the blog entry
2. Usefulness and character of the substantive feedback
3. The blog's interest and appeal to other users of Curl Version 6 or Curl Nitro
4. Clarity in the expression about the user experience
5. How the blog demonstrates or showcases specific features
6. The ability to use the blog to improve any aspect of Curl Version 6 or Curl Nitro
The Curl Blogging Contest requires that entrants be fully registered members of the Curl Developer Center before November 15. Entries can be submitted until November 15 at 11:59 p.m. PT. All entries must be submitted in English to be valid. The contest is open only to individuals who submit original testimonials, and who are of the legal age of majority in their country, province or state of legal residence and residents. Void where prohibited by law.
Curl developers can enter the Curl Blogging Contest by submitting a URL of their blog to blog_contest@curl.com. Potential blog topics may include experience using Curl Version 6.0, Curl Nitro, reliability, performance, manageability, ease of use, new features, a tutorial, code sample and requests for enhancements.
"We've seen significant growth in the size of the Curl developer community in the past year," said Richard Monson-Haefel, VP of Developer Relations, Curl. "Many of these developers have been vocal within our community with great insight on how to use Curl. We're hosting this contest to get even more peer knowledge on the Web from which the entire community can benefit. We're looking forward to what the community has to say."
For complete contest rules please visit: http://www.curl.com/blogcontest.
Multimedia: Curltech flickr page, Curltech photobucket page
Technorati Tags: Curl, RIA, Rich Internet Application, Enterprise 2.0, Open Source, Open Source Software
Suggested Links: Digg, Curl, Inc.'s Del.icio.us page, Post to Slashdot, Curl Blogging Contest
About Curl, Inc.
Curl provides a Rich Internet Application platform for building and deploying Web-based applications that demand complex, highly interactive interfaces previously only possible as client-server applications. Using Curl, developers can implement a new class of complex, business-critical, Web-based applications that cannot easily be developed with Ajax or other smart client technologies. Curl allows corporations with legacy client-server applications to move to Web-based delivery, increasing reach and reducing cost. Founded in 1998, Curl is headquartered in Cambridge, Massachusetts and is a wholly owned subsidiary of Sumisho Computer Systems. Curl has over 300 customers and 40 partners world-wide. For more information visit http://www.curl.com.