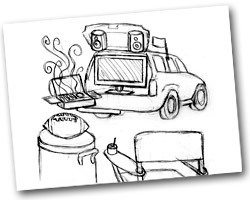 Charlottesville, VA (Vocus) August 12, 2008
Diehard football fans know it takes more than food and cold beverages to stage a truly memorable tailgate party. You need a first-rate audio/video system to blast out your team's fight song and keep up with the pre- and post-game radio and TV coverage.
The A/V fans who work at Crutchfield, one of the nation's leading internet and catalog retailers of consumer electronics, love helping people design and build dream systems for unusual applications like tailgate entertainment centers. In fact, they want to hear even more wild ideas from their customers. That's why Crutchfield came up with their "You Dream It, We'll Help You Build It: Tailgate Dreams™" contest.
Between August 10 and August 31, 2008 fans can enter the contest by filling out a wish list on Crutchfield.com and submitting a simple description of their Tailgate Dreams system. The wish list of products for the dream system can have a total retail value of up to $2,000.
Finalists and winners will be chosen by Bruce Feldman of ESPN
On September 14, Bruce Feldman, senior writer at ESPN The Magazine and the author of Meat Market: Inside the Smash-Mouth World of College Football Recruiting, will pick two finalists, based on the originality and inventiveness displayed by their description of the system they have entered. Contestants are encouraged to include a variety of products, such as GPS navigation for trips to road games, a hitch-mount grill, and a power inverter for 110-volt gadgets such as blenders and small TVs.
The two finalists win the gear on their wish list and get to work with a Crutchfield Advisor and a Product Support Specialist on the design and installation of their dream system.
The finalists will then have until October 6, 2008 to assemble their systems and submit photographs, video and descriptions of the installation process to Crutchfield in order to be eligible for the Grand Prize - a $1,000 Crutchfield gift card.
Crutchfield will announce the Grand Prize Winner, as selected by Bruce Feldman, by October 19, 2008.
Over the years, Crutchfield has helped its customers do some amazing things with their audio/video gear. Customers have called for advice on setting up surround sound for a barbecue grill, using car audio equipment for a solar-powered home, and even installing a car stereo system on a motorized wheelchair. These systems and the Dream It contests reflect the talent, passion and creativity of Crutchfield employees and customers.
About Crutchfield
Crutchfield, which celebrates its 34th anniversary in 2008, is one of the nation's leading catalog and Internet retailers of consumer electronics products. Crutchfield has its headquarters and a retail store in Charlottesville. Since its introduction in 1974, the Crutchfield catalog has been a respected authority on car and home entertainment products, winning many awards for quality, design, and usefulness. The people who staff Crutchfield's call centers are noted for their high integrity, product knowledge, and technical expertise. They are available by phone, e-mail, and live online chat. Crutchfield.com offers a convenient, full-service shopping destination to buyers of car and home audio/video products. Crutchfield was the first vendor-authorized audio/video retailer on the Internet and is one of only two retailers to have won BizRate's coveted "Circle of Excellence" award eight times.
For more information, press only:
Todd Cabell
434-817-1000, ext. 2510
###