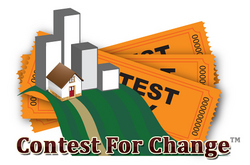 "Now I work with Contest For Change and I am looking forward to giving away what is really a free house.
Commerce City, CO (PRWEB) February 24, 2010
Contest For Change was created for the purpose of addressing the economic challenges that the world is experiencing today. A so-called "New Real Estate Industry" where by contesting homes, someone can win a home, with no mortgage and no tax. That's right, unlike home raffles or lotteries, this contest not only pays the mortgage but the income taxes gained upon winning that property. Regardless of income, credit or financial status, everybody has the opportunity to become a homeowner.
By simply participating in Contest for Change people will also make a difference in their communities and the economy…
Each successful contest will:

Pay off the outstanding home loan
Paying off old non-performing mortgages
Pay all closing costs
Pay Realtor Fees - Seller & Buyer
Make a Donation to a local charity - Non profit 501(c)3
Pay the IRS & State Taxes gained upon winning a home
The beauty of Contest For Change is that all circumstances have been taken into consideration. Meaning even if the number of entries are not met - there is still a winner, or better yet winners. The winner gets cash, the homeowner gets a percentage and even any realtors involved get paid a piece of whatever was collected.
After years of planning Contest for Change has officially launched. Contest homes will be added weekly across the US with properties already being contested in Colorado. Contest For Change has also started working with Military families and charities to help those who are being transferred and cannot sell their homes.One house, one family, one neighborhood can make a difference and bring about a change.
Regional Director
Karen McHale … Winner of a $1.2 Million Dollar Raffle
In early 2009 , Karen McHale won a $1.2 million dollar house in Edgewater, MD on a $50 raffle ticket. The owners, Tom & Dianne Walters, had decided to raffle their house due to the current slowdown in the housing market.
What started out as a "free" house for Karen, ended up being a tax burden of $200,000 to the IRS and $35,000 to the State of Maryland. Raffles and lotteries are considered gambling winnings, which is income that has to be claimed on your tax return. Karen ended up selling her house for a very discounted price, paid off the tax burden and ended up with $200,000 in her hands.
"I learned a lot about taxes, raffles, and real estate as a prize, which wasn't all that fun. But I met hundred's of wonderful people and realized that there is a huge need out there to get the real estate market back up and functioning again."
"Now I work with Contest For Change and I am looking forward to giving away what is really a free house. In 2009, I won a house, lost my job, found another job at a lower salary, sold the house and now have a new job helping people to get back on their feet."
How The Home Contest Works:
All people have to do is simply go to ContestForChange.com, click on the home they would like to try to win, pay a one time entry fee of $100 and submit their story to answer the question-- "How will winning this home change your life?" When the number of entries are met, an anonymous panel of judges will choose a winner. People can enter as many times as they wish as long as they submit a different story.
Number of entries are limited and each home will average about 14,000 entries. So can you write a better story than 14,000 people? That's a small number of people to beat for such a big prize.
Help Us Help You at Contest For Change!
For contest official rules, click here.
###