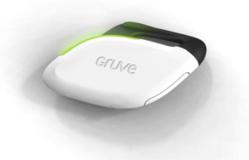 We are excited to announce the winners and want to thank all of the people who entered the contest
Minneapolis, MN (PRWEB) November 28, 2012
Gruve Technologies, Inc. announces the six winners for the "Gruve to Green" national photo contest. The contest created awareness about the Gruve ® activity monitor and how increasing everyday movement can help people achieve better health. This type of movement is the foundation for non exercise activity thermogenesis (NEAT), pioneered by Mayo Clinic researcher James A. Levine, MD, PhD.
Entrants submitted photos showing someone engaged in a NEAT activity. The winners were selected for the creativity of their submissions. The national winners included: Crystal Pineda, Judy NuHavun, Jan Broyles, Janice Ford, Lori Whittaker, and Jenny Pedersen.
"We are excited to announce the winners and want to thank all of the people who entered the contest," says Dr. Robert Gauthier, CEO, Gruve Technologies, Inc. "Our goal remains to raise awareness on how making small changes can lead to big results whether that means weight loss or reaching other health goals. Everyone who participated contributed to getting that message out."
The science behind NEAT proves that increasing everyday movements like walking, standing, or bending helps outsmart sedentary lifestyles, improving health and even leading to weight loss. To encourage behavior changes in the users, the Gruve activity monitor, provides three forms of immediate feedback—color-changing status lights, vibration, and a personal web interface. It can also work in conjunction with dietary and medical treatment programs to manage health concerns such as diabetes, high blood pressure, or obesity.
The Gruve creates personalized calorie and activity goals that automatically adjust as progress is made. This slow and steady behavior modification makes the changes sustainable regardless of age, gender, or fitness level.
The winning submissions can be viewed on the Gruve Technologies website.
About Gruve Technologies, Inc.
Gruve Technologies, Inc. provides scientifically-validated weight loss and wellness products designed to provide a sustainable path to better health. Headquartered in Minneapolis, MN, Gruve develops innovative technology and products based on cutting-edge medical research that are proven effective to modify behavior and aid in weight loss. For more information, visit http://www.GruveTechnologies.com.
###