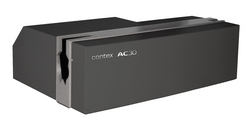 Derwood, MD (PRWEB) April 2, 2009
Contex , the world's leading manufacturer of wide format scanners, announced the inclusion of two new aperture card scanner models to their product line. These scanners are available in the United States, Canada, Central and South America, the geographic areas that are served by Contex Americas' office out of Derwood, Maryland.
The Contex AC30 aperture card scanner is the perfect choice for clients with medium scanning volume. The gentle card transport enables trouble-free scanning with a high quality. The outstanding scanning quality, the integrated grayscale imaging and the high productivity of 300 cards per hour opens a wide range of applications.
The Contex AC50 aperture card scanner is especially designed for customers with a large scan volume and high demands on quality. It is the perfect choice for service providers and companies with the need to digitize big stocks to provide them for fast access in their digital archive. In addition to the high productivity of 600 cards/hour due to the advanced CCD camera, the AC50 provides better quality than any other conventional aperture card scanner in the market. The outstanding scanning quality and integrated grayscale imaging enables a high quality standard for the import into an existing data management system, preparation for editing or vectorization of the images and compliments a variety of wide format printing devices to serve as a front end to a aperture card blow back system.
The advantages of both the AC30 and the AC50 include:

High quality scans from any kind of aperture card
Better scan results at first scan due to sophisticated image enhancement tools
Storage of all Hollerith files for further processing (database)
The unique LED light source prevents overheating and guarantees an optimal processing even of thermal cards
For more information on the new Contex AC30 and AC50 aperture card scanners, visit http://www.contex.com.
About Contex:
As the world's largest developer and producer of large format imaging solutions, Contex leads the market with innovative technology and advanced scan and copy software applications. Sold worldwide in over 80 countries, Contex solutions are recognized in a wide range of industries for reliability, value, high performance, and superb image quality. For more information, please visit http://www.contex.com.
Contact: Kelley Rodill
Phone: +240-399-5639
Fax: +240-268-1118
Web: http://www.contex.com
# # #