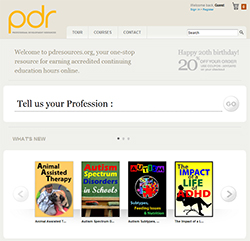 We wanted to offer something different that would go far beyond what we see every day on conventional websites.
Jacksonville, FL (PRWEB) September 08, 2012
Professional Development Resources, Inc. has announced that on September 1 it launched its new website, which has been in the planning and development stages for nearly a year. The company, which publishes online continuing education (CE) courses for health and mental health professionals, set the goal of building a set of online tools that its customers could rely on for fast and easy use. The entire site is built for simplicity, intended to supply busy professionals with their continuing education needs without the usual stumbling blocks that are typical of many online operations.
For example, the company offers over 170 accredited continuing education courses and vast amounts of information on national and state CE requirements, but users of the new website do not have to search through pages and pages to find the courses and information that are specifically relevant to them. The site features a personalized "dashboard," which serves as a portal to only the courses and information specific to each individual user's profession. The extensive information available on the site is filtered so that each user sees only what is relevant to him or her. The result is a significant savings in time needed to navigate the site, locate courses, and register for them.
"This has been a long time coming," says Leo Christie, PhD, CEO of Professional Development Resources. "We wanted to offer something different that would go far beyond what we see every day on conventional websites. We have learned from 20 years' experience how to listen to our customers and try to find out what they want. What we understand is that they want high-quality continuing education courses that are quick and easy to access and complete, in the context of an online management system that is intuitive and easy to navigate. We hope we have succeeded, but we are still listening and will fine tune our systems as needed."
Christie adds, "This website is like a Target store that is arranged personally for you. Before you arrive at the store, the front aisle is set up with everything that may be of personal interest to you. When you arrive, the store manager greets you by name and directs you to your own personal section of the store. You have a quick browse, select what you want, and go directly to the "fast" checkout lane. In and out in record time. This is what we are going for."
In addition to the filtering mechanisms, the other major feature that saves time and effort is this website's system of visual navigation. With this intuitive tool, users can view 30 courses on a single page, with a one-click jump to complete detail on any course, including a topic overview, intended audience, CE credit value, learning objectives, and registration information. "Forward" and "back" arrows permit instant viewing of all courses accredited for the individual user.
Professional Development Resources anticipates that the new website will open up online learning to large numbers of health and mental health professionals who have had to rely on more conventional continuing education delivery systems like live conferences, which can be very expensive and time-consuming.
About Professional Development Resources, Inc.
Professional Development Resources is a Florida nonprofit educational corporation founded in 1992 by licensed marriage and family therapist Leo Christie, PhD. The company, which is accredited by the American Psychological Association (APA), the Association of Social Work Boards (ASWB), the National Board for Certified Counselors (NBCC), the American Speech-Language-Hearing Association (ASHA), the American Occupational Therapy Association (AOTA), and the Commission on Dietetic Registration (CDR) of the Academy of Nutrition and Dietetics (AND) – as well as many other national and state boards – has focused its efforts on making continuing education courses more cost-effective and widely accessible to health professionals by offering online home study coursework. Its current expanded curriculum includes a wide variety of clinical topics intended to equip health professionals to offer state-of-the art services to their clients.
Contact:
Leo Christie, PhD, CEO
Professional Development Resources, Inc.
904-645-3456
http://www.pdresources.org/