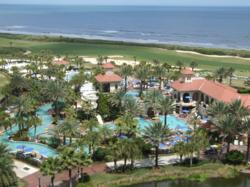 We are very thankful because this grant allows us to increase our marketing efforts to reach family physicians for our spring 2013 CME conference. -- Barbara Lyons, VP of Marketing
Palm Coast, Florida (PRWEB) February 13, 2013
Continuing Education Company Inc is pleased to announce that they are a recipient of a $10,000 grant given by the Flagler Country Tourism Development Council. The grant is to be used to help promote their 7th Annual Primary Care Spring conference which consists of two back to back live continuing medical education conferences (CME) at the Hammock Beach Resort in Palm Coast Florida which is located in Flagler County. The first session is March 25-29, 2013 and the second session is April 1-5, 2013. CME conferences are designed to educate medical professionals such as family medicine and internal medicine physicians,nurse practitioners and physician assistants and awards them with up to 20 CME credits which are required to keep their licenses current.
Continuing Education Company, Inc. (CEC) is an independent, non-profit, 501 (c)(3) continuing medical education organization. They have been developing and presenting continuing medical education programs for over 19 years. Their mission is to develop and provide educational opportunities to improve the skills and knowledge of medical and healthcare professionals. They accomplish this mission by offering American Academy of Family Physicians (AAFP) accredited CME lectures, symposia, and conferences.
Educational activities are developed with the guidance of Continuing Education Company's Curriculum Advisory Committee. The committee, lead by their on-staff Medical Director is comprised of physicians, pharmacists, educators who have extensive clinical and CME experience.
Barbara Lyons, VP of Marketing at Continuing Education Company had this to say about receiving the grant - "We are very thankful because this grant allows us to increase our marketing efforts to reach family physicians for our spring 2013 CME conference."
The mission of Continuing Education Company, Inc. (CEC) is to improve public health by developing and providing educational opportunities to advance the skills and knowledge of physicians and other healthcare professionals. This mission is accomplished by assisting healthcare professionals in assessing their educational needs and providing them with evidence-based education which meet those needs.