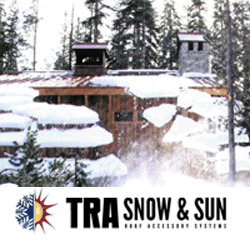 The course specifically helped me understand how important ventilation is in the attic space to maintain the cool buffer between the attic and roof.
American Fork, UT (PRWEB) June 25, 2013
Learning how to protect people and property from dangerous falling snow and ice just got much easier with a new online course created by TRA Snow and Sun and approved by the American Institute of Architects (AIA). When an architect designs a building there are hundreds of decisions to make besides the obvious, visual components that make up an attractive and functional building: what type of window to specify, what color carpet, or what type of roof are obvious ones. There are some specifications that are vital to the safety of those who will use the building and create liability for the architect and contractors.
If the building is located in a snowy, cold climate, special consideration should be given to the proper design and engineering of devices to retain snow and ice on the roof. Most construction professionals don't realize the importance of snow retention devices and how critical they are in alpine regions.
Terry Anderson, nationally respected roofing consultant and owner of TRA Snow and Sun and Anderson Associates Consulting, has established himself and his companies as experts in the roof snow retention industry over 35 years and is co-author of the Concrete and Clay Tile Design Criteria for Cold and Snow Regions. The new AIA online course, Roofing Solutions for Alpine Regions provides one credit hour of continuing education credit for architects wishing to maintain their license. It is also available for anyone wishing to understand the best way to design a roof in a cold or snowy climate. It incorporates Anderson's extensive experience and deals specifically with:
•The common roofing challenges that are unique to cold climates
•The advantages and disadvantages of the most common solutions to snow and ice on roofs
•The accepted roof design practices in Europe as compared to those in the United States and Canada
•The concepts and effectiveness of roof ventilation and snow retention in reducing snow and ice problems
•Several factors to be considered in the proper engineering of roof snow retention devices.
Many design professionals are confused by misconceptions in the industry about shedding the snow or keeping it on. Feather & Gill Architects of Santa Fe, New Mexico specializes in high end residential buildings in New Mexico and Colorado. Principal architect, Dan Featheringill, took the course and has incorporated what he learned into a job in Pagosa Springs, Colorado. Since there are many low-slope roofs as well as the traditional American steep slope roofs in the snowy areas he designs for, he thought this course about alpine regions would be helpful and it was. Among the things Featheringill said he liked about this continuing education course was that "the course specifically helped me understand how important ventilation is in the attic space to maintain the cool buffer between the attic and roof. I learned a lot from this course so it was great!"
The course is available online 24 hours a day, 7 days a week. Credits are automatically submitted to AIA, CSI and other organizations by AEC Daily, one of the largest providers of free continuing education for architects, engineers, contractors, specifiers, and other construction professionals.
TRA Snow and Sun, Inc., located in American Fork, Utah, offers Roof Snow Retention Devices, Solar Racking Systems and Roof Ventilation and Flashing Solutions. They provide all customers, from the individual homeowner to the big developer, free engineered designs for all their systems. For more information call Devin Hancock at TRA Snow and Sun at 800-606-8980 or visit http://www.trasnowandsun.com.