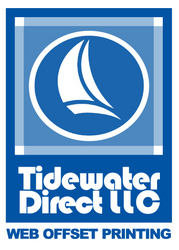 We wanted to create useful, dynamic content that our clients will value, and I think we achieved our goal
Centreville, MD (Vocus) May 18, 2010
Tidewater Direct, a continuous forms and insert printer, proudly launched its new website, Tidewaterdirect.com, complete with an innovative look and fresh content. The classic reflex blue theme and showcase rotating images of Tidewater's printing production equipment and plant blend well with the easy-to-navigate design. The site accurately represents the company and demonstrates its strengths to its clients; high volume continuous forms printing, insert printing, pharmaceutical printing, and print management.
Tidewater has come to understand that today's print buyers use the internet as a resource to shop and learn about print. The site today has a print glossary with over 150 terms, white papers that cover common print related issues, a full service listing, equipment listing, and an FTP client portal. Future upgrades may include print calculators, additional glossary terms, and production integration.
"We wanted to create useful, dynamic content that our clients will value, and I think we achieved our goal," says Geoff Eisenberg, Vice President of Operations. Robert Mason, Vice President of Sales commented, "Tidewaterdirect.com is an impressive tool that I can use to showcase the true value of Tidewater Direct. We're here for our clients in every capacity, and this furthers that point. We're everything print."
Tidewater Direct specializes in the efficient, quality web offset printing production of high volume direct mail component parts including, continuous forms, insert printing, and pharmaceutical printing and folding. With three locations across Maryland and Iowa and a production footprint of 200,000 square feet, Tidewater is equipped to meet the tightest deadlines and highest volume print demands.
Contact Information:
Tidewater Direct, LLC
300 Tidewater Drive, Centreville, MD 21617
410-758-1500
http://www.tidewaterdirect.com
# # #